by Stephanie Zingeler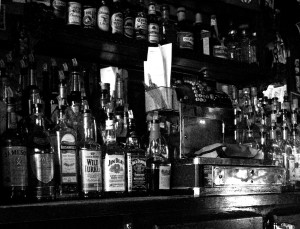 Caroline suckled a nicotine baby every hour or two,
dressed in camel UGGS, seen on nipple-pinching cold days,
eyes squinting to thin almonds as she inhaled
mouth wrinkled around the cigarette's lean physique,
hip thrust out to support the weight of her
logoed Louis Vuitton bag balanced on the upside of the elbow
where the joints connect and it's a nice chocolate purse
with a little black stain on the handle
—but there's always her ostrich leather bag in powdered blue,
or Advil red, like the inside of her mouth
expanding to gorge on the penny beer, the obsessively sugary shots
in all her favorite colors, down at the waterfront bars,
pinot noir reserved for steak frites dinners,
a tease of Jack Daniels just before bed.
She still misses her ex-boyfriend with the biceps,
sends him well-written postcards,
tells me she still thinks he's the one.
Sometimes she's ragged drunk,
achey-eyed and a little too gluttonous on the eyeliner,
telling me she likes Joshua,
the D.J. down at the violet nightclub.
Beautiful Caroline with the acorn tanned skin,
the long, rooibos hair that's always coiled in a bun
precise as a Swiss watch,
who told me her father's new wife
is almost the same age as her,
and they live in a Shanghai high-rise,
with their freshly birthed son who
Caroline has little time for,
but at least "he's my sugar daddy,"
she laughs, letting smoke out like unclenching a muscle,
tap-taps the butt to throw off some ash,
perfumes the late summer night
outside our square, red-bricked apartment
with burning tar,
and I laugh too, though nothing's funny,
but how else am I supposed to cope?
Category: Poetry