by Lee W. Sang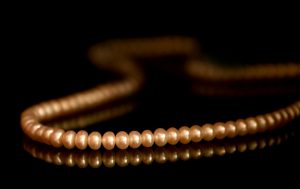 My mother told me copper grows more beautiful and balanced with time. That's why she gave me the necklace—two simple strands of hammered copper discs. She had bought it as some sort of peace offering, but we both knew she wanted me to be the woman who wore pearls.
"Are you trying to tell me I need to be more beautiful or more balanced?" I asked her at the time.
"I just want you to enjoy the necklace," she said.
I kept the necklace in a small Ziploc baggie in my top drawer for fourteen years, right next to the spare key to my old condo that now belongs to the bank. Yet my mother asked me about it as I dressed for the blind date she had arranged with that hunchbacked engineer in an ill-fitted suit. Jewish. Gentile. My mother claimed she didn't care. "Just a man with a job. Is that too much to ask?"
She asked me about the necklace when my short-lived marriage ended at the hands of a perky young actor my husband had met on the M23 crosstown bus. "Why don't you try wearing that necklace I bought you?" she asked. "Maybe he'll change his mind."
"He likes men now," I said. "He's not changing his mind."
She told me the necklace would make me look more respectable when I met with my son's fourth grade teacher, the one who started each conference with "Will it just be you today or will the boy's father be joining us?" Like we both didn't know that answer.
In hindsight, I should have worn the necklace every day after the topsy-turvy universe aligned to deliver my divorce and my father's death at the same time, leaving my mother and I to live under the same roof without a referee. She documented my daily failings in a notebook. She tracked every substance that went into my body, every hour the boy went unsupervised, and every vice of the few men who would still throw me a glance.
I should have put the necklace on as soon as she sent Child Protective Services sniffing around the house. She had boiled over because the boy had a few naked pictures of women dancing around a bonfire at the Rainbow Festival. Crazy, because he was a curious ten-year old and if the women's skin was all hairless and buttercreamed, my mother wouldn't have been all bent about the nudity.
I finally wore the necklace the day of the hearing, but it was too late. My mother paraded her evidence in front of the judge. I twisted the necklace around my finger and tried to get my mother to notice it. I'd button up to the clavicle. I'd marry an ambulance chaser if she'd let me keep my boy. But perhaps she was disappointed in the way the copper discs lay amidst the fleshy folds of my neck. Or she didn't like the way the color blended with the top of my peasant blouse and accentuated the age spots in my chest. Or maybe she could only focus on my upper lip, which I had bitten so much in the week leading up to the hearing that the skin above grew raw and chafed and my lip appeared to spread all the way up to my nose.
I begged the judge. "But look what she raised and look what I'm raising?" I knew I was an unconventional mother. Yet while the boy knew how to separate the seeds from the stems, he also knew how to separate love from pity. He knew he could make a bum smile just by saying hello. And yes, the boy was too comfortable with scarcity, but he also understood that a poem from Pablo Neruda could change the color of the day.
"Control her, please," the judge said to my court-appointed attorney who barely remembered my name. The judge looked past me in that way men do when they're finished with you, when your words no longer make a sound for them. But my mother, I had her attention now. She shook her head and studied me, as if she were still searching for her precocious little girl somewhere beneath my weathered skin, the one who played piano for her friends and finished with a curtsey.
I stood up so she could see me in all my thickset glory.
"He's gonna grow up too, you know," I said.
My attorney motioned for me to shut me up with a quick slice of hand in front of his neck. I tried to oblige, but in silencing myself, I bit down on my lip so hard that it opened up. A small drop of blood appeared and I wiped it with the top my hand. In the awkward light of the courtroom, it looked like a drop of copper. My mother was right. It was beautiful.
Category: Fiction, Short Story, SNHU Creative Writing, SNHU online creative writing