by Cynthia Roby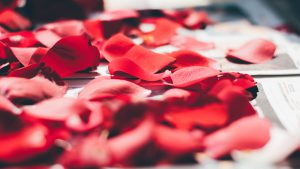 Boomerang was Sadie's man, and he got his name by definition: Every time she threw the lying cheater out, she'd cry, howl, and moan, all before that need-to-satisfy ache in her groin pried her thighs apart and let her Boomer back in—until the dag-gone fool never returned. Not for six weeks, anyway. That's when two red-faced Richmond County deputies, who got moonshine from Boomerang on Thursday nights but never paid, pushed Sadie's splintery screen door open and announced: Let's take a ride, Sadie gal. Boomerang's done been picked up.
Sadie's eyes widened. She got dressed as fast as she could—ruby-red lipstick, Esther Phillips wig, hip-hugging skirt, bunion-causing shoes, cleavage-blinding sweater, and a just-so sprit of five-and-dime toilet water—all to make her Boomer think she was keeping time with another man through the six weeks of long nights he had run off and left Sadie's woman-self dry and cold.
But the deputies weren't escorting Sadie to the Colored lockup. They made a left on Grover's Pike, not a right. And that was the road to Crenshaw and Son's Funeral Parlor, the only one in Augusta during the late fifties that would make an attempt to give Colored folk a halfway decent burial even if the living relatives had to put the good-bye services on layaway.
Sadie screamed: Lawd have mercy! What y'all done did to my Boomer? The pair of red-faced badge-wearers in the front seat looked at each other then shook their heads and removed their hats on account of Sadie didn't know that at some time in the night—Boomerang's other woman, with ruby-red lips and a hip-hugging skirt, had given the low-down philanderer an expeditious killing.
Category: Fiction, Short Story, SNHU Creative Writing, SNHU online creative writing