by Allyson Lewis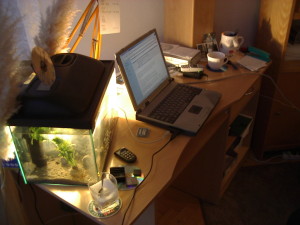 How do I start again? That's the question I kept asking myself.
I had written a book, and like many others, my family and friends loved it. Toward completion of the book, I had readers begging me for the next chapter. Frankly, it was a five-year process, but I actually really wrote the bulk of the book in the last two years. Then the dedicated wanted to read the sequel.
Like many others, I had sent it out to a plethora of agents. Really! I sent out the query letter, synopsis, and sample pages to about one hundred agents. But the rub was that no one had ever heard of me. I never had so much as a short story published. I was an unknown author with an unknown product. Who can blame them? Their time is inundated with unknown authors with the next "bestseller."
And since we are being brutally honest here, I was sick of my book. I had revised it around fifty times. Okay, maybe it was only twenty times. It felt like fifty. They say to put it in a drawer and come back to it after a year. I did that. But I was still tired of the characters. And I really knew the story line. I had nothing new to add. My husband kept insisting that it would make a great movie (he's my biggest fan). Others agreed with him but I was stymied on how to do anything about that when I couldn't get any agents to take it on as a project. Sigh…
I was really ready to move on. Though I would actually be thrilled and inspired to write the sequel if an agent clamored for the first book. But not so much if that wasn't going to happen.
I was in a writing morass, wondering what to do about writing my next book. Sure, I could write articles or short stories (not that anyone would publish them), but I really had fallen in love with writing the full shebang—a book.
That's when I stumbled over NaNoWriMo, which stands for National Novel Writing Month. What? In a month? Write a full novel in a month! Who could possibly do that? Okay, Stephen King, of course, and Sara Gruen (who actually did write Water for Elephants during NaNoWriMo). There are quite a few talented others on that list. But they are gods and goddesses. I am a mere mortal. Still, I was curious.
Oh, wait. It's not really a whole novel. The NaNoWriMo contest was to write the bulk of a novel or a minimum of fifty thousand words during one month. That breaks down to an average word count of only 1,667 words. Every day. For thirty days. In a row. All to be done inside the month of November. Really?
It was mid-summer of 2014. I pondered the idea. This is a very important step, by the way. I have to admit another thing. I am a real sucker for a deadline. That's why I hadn't done anything else yet. No agent or editor was clamoring for my work; hence, no deadline. One of the only reasons I had finally finished that first book was that I had given myself a workable (albeit soft) deadline. So, in essence, NaNoWriMo was a way to lock into a deadline that was very real and very tangible and not extendable due to my necessary excursions into reading, watching amazing television series, and a myriad of other things, like cleaning house (which I, like, hate).
In August I told hubs that I was going to enter NaNoWriMo in November. Did his eyes glaze over? Well, maybe. Because it seemed to be new information to him every time I reminded him (every week or so) as November quickly approached.
I set about preparing for the exciting month ahead. I registered on the NaNoWriMo site. I wrote out the first two chapters of the upcoming book (based on a crazy dream). But something was nudging me in the back of my mind.
Is that really the book you wanted to write?
Yes, of course it is. Quiet back there!
But what about the book you've always dreamed of writing?
Oh, do shut up. I'm going with this book. I am in no way good enough to write that book.
You don't have to be good enough. You just have to write it down.
I don't even have a plot or outline or anything. Besides, NaNoWriMo is a week away. Go away.
Write the book of your heart's desire.
Hummmm…No, really. I can't.
Yes. You can.
Anyway, you can see how pestered I was by this voice. Anybody else dealing with voices? Just me? Great…
So I dared to dream and completely changed course. I scribbled an outline on a blank page. What? They wanted a synopsis? Wait, I'm putting this online. That's pretty risky, isn't it? You can just imagine what the voice said.
And then I cheated. But the rules of NaNoWriMo seemed to encourage it. Or at least that's the way I took it. I wrote down six days of fifteen hundred to two thousand words daily. That allowed me to have a cushion going in. After all, it was during November. And I was just a bit busy with the holidays and all that plus my regular life.
November first arrived. On a Saturday. What genius thought of that? But I was very proud of myself. I put up two thousand words. The next few days rocked on. What's the big deal? This was going to work. Then some travel came up. I had planned to write while traveling. That didn't actually happen. It was fun where I was. And my friends wanted to hang out. What was I supposed to say? I'm writing a book this month, and while I'm thankful for our friendship (being the month of Thanksgiving and all), I am just too busy to hang with you. Right. So I plugged in my pre-cheater work and kept right on track according to NaNoWriMo. Cool.
And NaNoWriMo provided all kinds of help. You could sign up for a local regional group to hang out with for some weekly skin-to-skin encouragement. I went to the one near me and walked by a few earnest and enthusiastically obvious NaNoWriMo participants. I didn't stop. I'm shy.
Then there were the daily encouragement live-cast type things on the NaNoWriMo site. How hokey is that? I had one on one day while I was writing. These two young girls said to use a writing prompt to have your character see something far away and react to it. Really? Ummm…that's actually a good suggestion, and that prompt contributed a full chapter to my book.
The end of Week Two, after a bit more travel, saw me exactly on track to finish the contest. I puffed up my chest when I realized that a lot of my writing cohorts were falling behind the schedule. NaNoWriMo has charts and things you can measure your progress against. Really, people? Just how hard is it? You signed up for it.
Week Three hubs had surgery. I really planned to write a ton then. What else would I have to do? It was just routine surgery so no worries. But it wasn't so routine. So I stayed the night in the hospital with him. Family and nurses wanted to talk to me. My laptop didn't make as many appearances as I had scheduled. Thankfully, hubby was fine. Then I had to go out of town for a daytrip. The end of Week Three found me dangerously behind on the NaNoWriMo charts. A tiny sense of dread snaked up my spine. It was perfectly understandable. How could anyone expect to write during a week like that?
I entered Week Four with twenty thousand words to write. I could do it. Okay, maybe I'll get up extra early Thanksgiving Day and write two to five thousand words. Thanksgiving was being hosted by our college son in Tallahassee, about a six-hour drive. Which was great! I adore Thanksgiving! I wrote all the way down and back to Tallahassee. And I did get up really early Thanksgiving Day. But it wasn't to write. My darling son wanted to use family recipes for Thanksgiving. What mother doesn't love that? Did I mention that our BFF's were down there too and joined us at the hotel's hot tub the next couple of nights for after dinner drinks? Even so, I closed out Saturday, November 29th with a word count of forty thousand words. I had ten thousand words to go. And, by the way, was my laptop going a bit wonky?
So I started out early Sunday morning, November 30th, with a looming deficit. But I felt energetic. Surely I could get it done. (In hindsight—what was I thinking!?) Around eleven in the morning, my laptop blinked off. Crap! There was something wrong with the battery. Or was it the plug? I had gotten a new plug when we returned from Tallahassee. I got it back on and backed up the book—which, by the way, was flying onto the pages like a dream coming true. By two in the afternoon, I still had five thousand words to go. I was exhausted. My husband was enjoying football and beer in the next room. Boy, did that sound enticing.
Then the characters did something totally unexpected. I was shocked and grieved. How could they do that? What were they thinking? I got up and walked around outside for twenty minutes or so. I had experienced characters and story lines taking on a life of their own before, but this was the first time in this book! I decided to see what happened and sat back down at my desk. More coffee, now! A short time later my laptop shut off again. It was 5:00. I had three thousand words to go. I cajoled and pleaded with it. I changed outlets. Oh! It liked that outlet better and turned on strong as ever. I backed up and kept on writing. Now I was backing up my book every few minutes. At 8:00 I had to change rooms to utilize the unexplored outlets in the kitchen. By 8:30 I was standing up next to the stovetop with three hundred words to go. Caffeine might have caused a bit of shakiness but I was determined. The last three hundred words flew onto the pages (what with the characters misbehaving and all). At 8:55 I clocked 50,010 words.
After backing up my book one more time, I quickly followed NaNoWriMo's instructions for third-party verification of my word count. Within two minutes I received congratulations that I had won (NaNoWriMo's term for writing a minimum of fifty thousand words). The NaNoWriMo accolades were still flooding my email when my laptop clicked off for the final time. There were no other pleasing outlets I could convince my laptop to employ. And when I took it in to the computer guys the following day, they pronounced it dead on arrival. But it had kindly waited to die until I had my fifty thousand words. Nice laptop.
So would I do it again? Yes, I will. I am actually pretty excited about it. Will I enjoy NaNoWriMo live-casts more? You bet. Anytime a whole chapter can be created based on their prompts, that's a no-brainer! Will I venture out for the regional NaNoWriMo get-togethers? Maybe; probably not. I'm shy. Will I plan ahead a bit more and have more cheater words at the ready and a fuller, maybe even complete outline? That's a roger! Will I enter Week Four in a deficit of twenty thousand words? I am wholly committed to a slightly better game plan than that. Will I enter the last day with ten thousand words to go? What idiot would ever do that again? So I have a game plan…of sorts. Oh…and one more thing. I have a new laptop and a desktop. And neither one cares where it's plugged into.
So join me this coming November. Who knows where it will take you? It's an adventure that thousands nationally and even internationally go on. You will have opportunities to meet other writers online or in person. It could be the journey that launches your work; if not to the bestseller list (which could happen!), it could at least make you a better writer or even take you to the next level. Or it could, like me, at least make you a more confident one.
NaNoWriMo, it's brilliant, really.
Category: Nonfiction, Short Story