by Michael C. Keith
Be a good animal, true to your animal instincts.
– D.H. Lawrence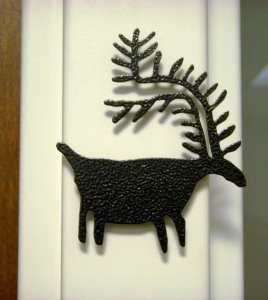 The white tail buck moves its snout a millimeter beyond the oily grass line and is assailed by a torrent of unfamiliar scents.
"My mother will love those cloth napkins. She'd have everything in her house that color."
It cannot identify what stings its nostrils and has never experienced anything as pungent.
"Well, I hope she likes them. She's so hard to buy for. Has everything already."
Adding to its mounting confusion are faint and then formidable vibrations under its hooves.
"Want the radio on? A little music of the season?"
A series of rumbling sounds are equally foreign to the stag.
"Sure. That would be nice. Oh, can we stop at Walgreens on the way home? I have to pick up my prescription."
It backs into the scrubby brush and blows its muzzle clear of the olfactory offenses.
"Yeah, I have to get some razors, too."
Small clouds of steam issue forth and form a tiny galaxy of ice crystals.
"'The first Noel the angels did say . . .' I'm really hungry. Are you?"
The arcane noises remain, but they are muffled and less threatening. 
"We haven't been to Rancho Joe's in a while."
Yet they reassert their force the moment the creature steps from the cover a second time.
"About a year, right? Not since Sue and Paul were here." 
It is drawn to the primal mating call coming from the other side of the alien divide, and it cannot deny the instincts that drive it forward.
"I love their guacamole and warm nacho chips . . . not to mention their margaritas."
The deer takes tentative but determined steps onto the curious surface that it finds both slick and unyielding.
"'Born is the kingdom . . .' What time do we have to be at your sister's tomorrow?" 
Its legs begin to splay, and it quickly rights itself.
"Around 5, she said."
The peculiar rumps and thuds return, drawing ever closer then fading.
"Good, that will give me most of the day to finish my wrapping." 
The buck feels a sudden blast of air as a glowing object roars past within inches of where it has momentarily stopped.
"Ha . . . you'll be done in ten minutes. Do you think we should get Murphy a little something? Everyone else will be unwrapping gifts."
A soft grunt beyond the furtive gulf reaches the buck and it bleats in response.
"I guess. Who else buys for him? 'Jingle bells, jingle bells . . .'"
More harsh currents push against the animal's body as it ventures further on the uncharted track.
"We can find a little something for him at Walgreens. Maybe some scratch cards."
Another compelling grunt from the distant dark hastens its movements forward.
"Starting to snow. Only flurries, they say."
Crossing the synthetic terrain, it is startled by a loud admonishing beep from behind.
"Is the road slippery? 'Silent night! Holy night . . .'"
The alluring calls continue to lead the buck as it leaps across a barrier onto more adamant ground.
"Not yet. Hope it's not too bad when we come out of the restaurant."
It sniffs its destination and takes additional steps before two advancing orbs suddenly seize its attention.
"'Sleep in heavenly peace. Sleep in . . .' WATCH OUT!"
A furious weight strikes it down, and it enters oblivion as its detached horns reach its waiting maiden.
"Oh, my God! You okay?"
#
Michael C. Keith teaches college and writes fiction. www.michaelckeith.com
Category: Fiction, Short Story