The Penmen Review is Southern New Hampshire University's online journal for creative writers. Our journal encompasses The Review itself, which provides writers of all calibers, from novice to professional, with an opportunity to submit poetry, essays, book and script excerpts, and short stories for potential publication. We also offer tips and advice from seasoned writers and industry professionals in our Writing Resources. The Spotlight features interviews with noted and new writers, from poets to novelists and screenwriters to young adult authors, along with some of our creative writing students, too. New features will publish regularly and we encourage you to visit often for the latest interviews, tips and advice, and creative writing posts.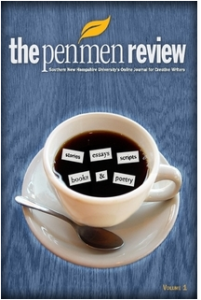 Southern New Hampshire University celebrated the first anniversary of The Penmen Review with the publication of its first anthology featuring a selection of its published work over the first year. The anthology includes short stories, poetry, script excerpts and essays from SNHU students along with work from noted writers worldwide. "The works you will find in this collection include writers of different genres, styles, abilities and origins," said Patrick M. Hayes, Jr., assistant dean of Literature and Writing. "The Penmen Review affords everyone the opportunity to showcase talent and perseverance, to help new authors break in and seasoned authors add to their portfolios."
"The Penmen Review Anthology, Volume 1," is available to purchase as an e-book or trade paperback, with a portion of sales earmarked for a scholarship for an online writing student at SNHU.
The Penmen Review accepts submissions 12 times a year and new submission cycles begin on the first day of each month. Simultaneous submissions are accepted and writers retain all rights to their work. There are no submission fees for writers for submissions nor are fees paid. Complete submission information may be found here. Visit the Southern New Hampshire University website for more information on undergraduate and graduate online degrees in Creative Writing.