by Scott L. Miller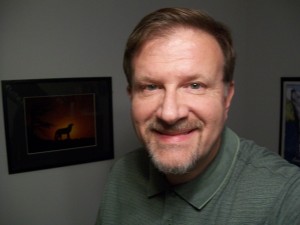 Don't ever give up.
I worked on my first novel for twenty years off and on, tossed characters, cut it in half and rewrote it 17 times. If someone tells you that you don't have what it takes, that's one opinion.
Write for yourself, not for others or money or fame or just to get published. The book industry is facing many challenges, cutbacks we have NO control over.
Read, read, read, read!  Pick authors in or close to your genre (if your writing has one), study the hell out of them, the dialogue, and the sentence and plot structure.
Write, write, write and write some more! No interruptions, no noise, no pretty scenery by a lake. Exercise your writing brain every day for as long as you can.
Two excellent books on writing are "Story" by Robert McKee and "The Writer's Journey" by Christopher Vogler. Stephen King's book on writing is good, too.
Find readers who will be honest with your work, not friends/family who will like it because they like you–you need critical eyes going over your story.
If you can afford it, find and hire an editor who has worked with successful writers.
Shorter sentences are usually better—some people (at least me) don't want to wade through two descriptive pages of what a rose smells like.
About outlines, there are two camps. Some writers (Jeffery Deaver) spend eight months on their outline and only four months writing their novel. Others start with a beginning, middle and an end, and let the story grow and develop on its own (Dennis Lehane). I gravitate toward the latter but both have their merits.
Go to writers' book signings and listen to what they have to say.
Think in terms of scenes when writing a chapter; make the reader want to turn that page and go on to the next chapter.
A good hook at the beginning helps a ton.
Read your dialogue aloud. In fact, it's helpful to read each chapter aloud for a sense of flow.
Conflict is necessary. I like to put my characters in situations where they are faced/forced with difficult decisions so their character, or lack thereof, bleeds out.
Don't try to be Ken Kesey or Nicholas Sparks or Gillian Flynn or Christopher Buckley. . .the world has or had one each of those. Be yourself.
Find a voice for each major character and what drives them.
Write about what interests you. . .I'm a psych/medical social worker and my novels are part suspense/crime fiction, with a psychological bent. My protagonist is a social worker in private practice. My second novel "Counterfeit" is due out next month from Blank Slate Press, part of a series set in present day St. Louis.
I hope this helps. Remember, don't give up on your dreams. . .they're part of living.
____
A licensed clinical social worker, Scott L. Miller earned his master's in social work at St. Louis University and has worked with adults, children and the elderly in state and private hospitals in St. Louis city and county for over thirty years. Starting at the old Malcolm Bliss and St. Louis State Hospitals provided him with his early psychiatric training and gave him his first taste of the street life partially captured in his second novel.
Long fascinated by the wonders of the human mind and an avid reader of psychological suspense and crime fiction novels, he quit writing exceptionally bad poetry and studied fiction writing under the late John Gardner and later at Washington University. He began writing and re-writing twenty versions of his first novel, "The Interrogation Chair," in lieu of sleeping at night. The sequel, a stand-alone second novel, "Counterfeit," is due to be published June 2013 by Blank Slate Press and the first in the series has been re-written and scheduled for release this fall.
He is currently working on a third Mitchell Adams novel, working title "The Virtual Suicide Machine," from his home in Chesterfield, MO, where he lives with his wife Beta and their barn of beagles and cats. He occasionally finds time for sleep now, unless the animals hog the bed.
Category: