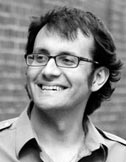 Scott Andrew Selby is a graduate of UC Berkeley, Harvard Law School and Sweden's Lund University, where he wrote his master's thesis on diamonds. He is the author of a nonfiction book,"The Axmann Conspiracy: The Nazi Plan for a Fourth Reich and How the U.S. Army Defeated It" (released in September 2012) and the co-author of "Flawless: Inside the Largest Diamond Heist in History."
Selby recently shared three things he knows now that he wishes he knew when he first started writing.
1. Writing a nonfiction book and then trying to sell it is a bad move. Stick with writing a proposal, get a deal and then write the book.
2. Read lots of reviews of work similar to your own to see what does and doesn't work.
3. Try to get a little bit done everyday.
Category: