by John Wells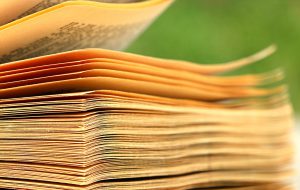 It's a conversation I've had with almost every writer I know: does it ever make sense to self-publish work? Despite the miracle of electronic submissions, it's still a months-long process, submitting and waiting for word on your poem, your story, your essay. For the publishing of a book-length manuscript, this translates into a painstaking procedure of often many years, led (sometimes misled) by mysterious and serendipitous forces along the way; most of us have heard horror stories of publication dates getting pushed back—sometimes by years. All the while, our creative and professional instincts pressurize our lives by way of compulsion; we hear, louder, the tick of that great existential clock when we read about some undergrad that got a story into The Kenyon Review, with her first book at 22 years old. And perhaps at any age a writer can be host to the mania of a manuscript like a heart hidden beneath the floorboards, unrelenting, and clamoring to be let out.
Almost universally, it's at that moment—maddened by altruism, by passion, maybe by vanity, ambition, by an unknowable amalgam of desires both noble and narcissistic—that we see an ad on Google, or in a beloved literary magazine: "Publish Your Book!" it says. Yes, we think, I would like that, please, and we begin to really consider the possibility of self-publication. It just seems like so many of our goals can be achieved through self-publication; we want to regard our work as "finished," and we want that finished work to be available to others, we'd like to see, to hold in our hands, that bound manuscript—with a cover and everything!—and what's the point of our writing, after all, to satisfy the hegemony's dogmatic provisos, to slowly climb some crumbling ivory tower, or to create and share our good work? So there's no wonder why it's such a seductive alternative to simply pay a few dollars and publish the book, especially when the ease of on-demand publishing, including the distribution of electronic texts, means we're no longer paying for a print run of several dozen (or several hundred) copies of the book in advance.
But of course, sadly, we may not have found Xanadu, here. In fact, there's consensus, for better or worse, amongst my writerly cohort that self-publishing is more often pyrite than panacea, and it's of the utmost importance to fully consider the reality of the enterprise before committing your work to it.
In the spirit of cultivating a serious conversation about the industry of writing—respectfully, but candidly—a primary pitfall is that a self-published book just doesn't carry any weight on a CV, and in fact, a lot of hiring committees dismiss them out of hand, and for obvious reasons. This isn't to disparage work that anyone has self-published, but in theory, someone could pad a CV with dozens of self-published works if they wished. Rightly or wrongly, fairly or not, such work isn't taken as seriously. If your ambition is to teach at the collegiate level, self-published works won't be an asset there.
Additionally, self-publishing comes with the risk of disqualifying work from traditional publishing later. While some publishers these days are easing such restrictions, many still hold to the practice of only offering work "never before published." Some count self-publishing as "previously published," and some houses and journals even count certain types of blogs or websites (with certain readerships, or numbers of content views) as publication. This is an intensely complicated and rapidly evolving conversation within the industry, and depending on where you want your career to go, you'll want to keep abreast of these developments; read the guidelines of the publishers and journals you want to work with very carefully, as they should be explicit about their policies there.
It's important to understand, also, that the distribution and resources are drastically, importantly different for self-published material. Depending on how deep your pockets are, you can get help editing, advertising, and distributing the work. But it's not certain you'll be matched with an editor that specializes in your genre—if you pay for editorial help at all—such that it's very difficult to predict the quality of the feedback you'll receive. As far as distribution and advertising, there, too, it's possible you'll end up more or less on your own. While the company will provide for, say, e-book availability through a website like Amazon, you can easily be left just sort of hoping that people find your work, directed there by a few spare mentions on a company website or your own personal references (from something like Facebook).
Above all, let me be clear: I can't hold in higher regard the devotion it takes to write and polish work. As I've suggested earlier, self-publishing these days is plain old "not what it used to be"; the magic of the internet allows for distribution of these works in a wholly new way: one that can sometimes prove tremendously fruitful. While it's a truly exceptional occurrence, I've had students self-publish work that got them noticed by publishers, in one case leading to a book deal. It's also true that over the past decade, there have been self-published works that earned their creators wealth and fame. But honestly, I don't know any serious writer who considers self-publication a viable career path, and if it's impatience driving you to self-publish, make sure to take a long moment to consider what the rush is. This is in no way meant to discourage anyone, and goodness knows that if you have designs on self-publishing, then you go right on ahead and do it—it takes a heck of a lot more ambition and guts to do these things than it does to not do them. But while it's understandable to dread the monastic desolation of polishing and waiting, you owe it to your work to respect that requisite effort, and to trust in the course of your calling, regardless its rigors.
John Wells is an adjunct instructor in the creative writing program at Southern New Hampshire University. 
Category: