Students in Southern New Hampshire University's online liberal arts programs were invited to participate in the W.R.I.T.E. Challenge, an 8-week experiential learning program, working in groups to research and write a resource article related to writing. Beyond the challenge itself, the groups competed to be published in The Penmen Review. This is the winning article.
by Sara Meoli, Jessica Manchester, Olivia Delgado and Victoria Salinas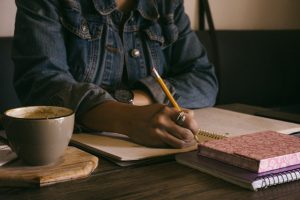 We wouldn't count on a mechanic waiting to be inspired before fixing our cars. We'd expect them to get to work, like a professional. The same is true for writers. As Stephen King wrote in "On Writing: A Memoir of the Craft," "Amateurs sit and wait for inspiration to strike, the rest of us just go to work."
We are amateur writers currently, but we don't want to be forever. We came to Southern New Hampshire University's Writing Roles Incentive Training Experience (W.R.I.T.E.) as beginning wordsmiths looking for wisdom from experienced writers. What we found were empathetic voices who share our tendency to procrastinate. Spotlighted here are strategies new writers can use on their path to publication, especially when and if the writer finds themselves hindered with procrastination.
Rejection
There are many reasons writers will put off working on their craft but rejection is by far the most common we found. Rejection is part of the writing process. Peers and mentors remind us of this time and again, insisting that the thicker our skin, the higher our chances of success. But acceptance and talent aren't necessarily linked.
Jessica Manchester, the author of "Freedom," is the daughter of an Iowa Writer's Workshop creative writing teacher. Her path seemed perfectly mapped until she hit her first obstacle: rejection. "When Ellery Queen said no, I stopped submitting for years. Rejection was soul-crushing," she said. Although she didn't stop writing, she stopped submitting for several years.
Manchester recalled a moment of uplifting victory, having won the Fort Bend Writers Guild award in 2017. This came with a small cash prize and the opportunity to meet an agent from New York, who quickly deflated her ego. "The agent said, 'there's no doubt you're talented, but in the world of publishing, talent doesn't mean that much,'" Jessica said. She learned her lack of social media presence or loyal blog followers cost her a critical connection. Rather than focusing on the agent's advice, she completed and submitted 66 stories previously hidden away, which resulted in 54 rejections. Yet, these inevitable rejections gave Jessica the thicker skin she needed. She continues to write while earning her degree and has created a WordPress blog to raise awareness of her writing.
Blocking (and Being Inspired By) Distraction
R.F. Blackstone is a horror writer, who lives in Mexico City. He's been writing since elementary school and has several novels available on Amazon. Some are traditionally published through Severed Press; others are self-published. When asked what scares him about the writing process, he said "I'm Australian. We're bred not to be afraid."
Blackstone's issue with procrastination stems from distraction. To get down to business writing, he said he turns his phone and Wi-Fi off. He listens to music while working and is easily side-tracked by the lyrics. However, sometimes he finds inspiration in a great verse. Once he starts writing, he gets in the zone and can't stop.
Looking to the Past to Inspire Current Writing
Carolyn Riker is a poet, novelist and therapist. Like Blackstone. she writes to fulfill her soul. Her methods for dealing with procrastination are holistic. She said to consider the time not spent writing as an incubation period. Early on, she stopped writing for many years, until the dam broke and her words came flooding out.
Riker spoke of the power of visible talismans to inspire her writing, specifically the influence of voices heard from writers past in her favorite stories. She lays books on the floor and asks the characters, "What do you have to give me? What can you show me? You've walked before me. Help me to be a better writer."
Like Manchester, she said rejection used to hurt, but she kept submitting because she needed to share her outlook with others and as her name appeared in print more often, her perspective switched from I think to I know.
Different Writing Experience, Shared Challenge
Each of these writers work in different genres, with varying levels of experience in the field. Their voices clash in contrast. Manchester is dark and humorous, exploring the consequences of crime. Blackstone is direct and pragmatic, probing society's deepest fears. Riker is feminine and ethereal. Her gentle guidance offers hope and solace in a harsh world. Yet, a  common denominator is shared by all three. Writing is harsh work. Acceptance is never guaranteed. Procrastination is the check-engine light in the vehicle of writing. In order to move forward, it cannot be ignored.
Category: