Students in Southern New Hampshire University's online liberal arts programs were invited to participate in the W.R.I.T.E. Challenge, an 8-week experiential learning program, working in groups to research and write a resource article related to writing. Beyond the challenge itself, the groups competed to be published in The Penmen Review. This is the winning article.
by Joyce Bloemker, Sara Carey, Lizzie Gerry and Emily Koetsier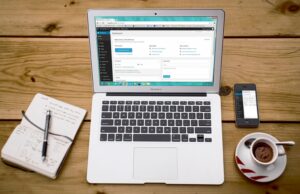 Curating content and growing an audience is simpler than ever before with the explosive reach of social media. The internet is teeming with blogs and websites for every subject you can think of. So, how do you make your own blog stand out?
We know that building an audience online today can be a challenge, but, with consistency and by following these proven steps, you'll find yourself on track to doing just that.
Develop Your Blog
Starting a blog can be daunting; you don't know if anyone will be interested in what you write. To alleviate any first-timer worries, let's use several simple steps to break down how to start your blog and gain an audience
Taking the First Step
Start with choosing a target audience. Without a clear audience, the content will be directionless and reader-less. Author and marketer Neil Patel finds the best questions to ask yourself are:
What do I enjoy learning about?
Who else is interested in my topic?
Susan Friedland, the equestrian author and blogger behind Saddle Seeks Horse, said, "I first wrote the blog for me, to achieve my goal of being able to publish a book." Friedland also shares the advice: "Figure out what your motivation is for blogging." Personal motivations help us stay interested and engage with our readers.
Once you have found your niche and motivation, you are ready to begin blogging.
Defining Niches and Owning Them
Your chosen niche is the root of your content. Keep content consistent. Linking your personality to your niche creates richer content. Sharing yourself in posts gives you credibility to readers. Why are you an expert? Why should people care about what you write? One of the first stops a reader might take on a blog site is to the "About" page. You can use your "About" page to further connect you to your niche as well as your content.
Friedland remarks on beginning her blog, "My topics were of a personal nature—a journal of me looking for my next horse." Your perspective on your niche is unique, and how you connect with it will bring new understanding to readers.
Think About the Look
Creating a blog site will be your next goal. Various site builders, like WordPress or Wix, offer free, easy-to-use and professional-looking templates. Carefully choose color schemes, fonts, themes and animations to attract and keep audiences.
For example, sans-serif fonts are easy to read on all devices and are simple and timeless, according to Pumpkin Web Design Manchester. Colors are also important; high contrast makes words more readable. Black text on white background is common because it works. Play with other light and dark schemes as well as opposing colors on the wheel. Fonts and colors should be consistent throughout our sites for greater effect, said Artem Minaev, an online entrepreneur skilled in web hosting.
Another piece of your blog puzzle is post format. In a First Site Guide article on blogging statistics, Ogi Djuraskovic notes that adding pictures to your posts will increase their success. Use photos you take instead of stock images. Your photos will be unique, relevant and more believable than stock photos anyone can use. You will also avoid copyright concerns by using your own photos.
Writing Posts Takes Time
Lastly, prepare for the time commitment. Djuraskovic also notes writing one post can take more than six hours, with experienced bloggers averaging four hours per post. The adage "practice makes perfect" can be applied to blogging. The more you read and write blog posts, the more you learn and grow.
Promote Your Blog
With so many ways to promote your blog it can feel overwhelming to figure out where to begin. We suggest you start by picking a few key promotional tools and gradually build your toolbelt over time.
Try Social Media
A great place to start is by creating social media accounts connected to your blog. Squarespace says this allows you to share content between platforms in order to reach more people. It also allows you to share your blog with like-minded groups on Facebook, Reddit or other forums. According to Rocket Content, social media can help boost your blog not only by helping you reach new audiences but by teaching you valuable insights such as which posts are more popular.
Mindy Marzec, social media coach and blogger at This Fairytale Life, said she used to make an Instagram post for every blog post. Now, Marzec focuses on "build[ing] a community of fans on Instagram" that is not exactly the same as her blog community.
Try Call-to-Actions
An add-on to social media is to use call-to-actions at the end of your blog posts. Wix suggests adding buttons such as "share to social media" at the end of each post for readers to interact with and share content they love easily.
Try Guest Blogging
Another way to grow your audience is to guest blog. Guest blogging introduces you to a new audience and provides a backlink to your website. Artem Minaev, in his article on First Site Guide, said to find blogs of similar content with strong engagement. Then get to know the owners and editors. After building a relationship with them, ask if they would accept you as a contributor to their site.
Try Search Engine Optimization (SEO)
Lastly, to appear organically in search results, Search Engine Optimization (SEO) is important to understand. SEO can be overwhelming for anyone at first, but Wpbeginner takes you through how to start using SEO for your blog posts. The guide advises you to first use a keyword search to plan out your blog posts, write a great title and make your blog search engine friendly.
Engage Your Audience
It's not only important to attract an audience, but it's also vital to keep an audience coming back. One of the best ways to do that is by engaging with readers.
Create Conversation
Once an audience begins trickling in, you want them to stick around. An audience wants to feel like they are a part of the blog they read each week. Every time they tune in, they get to know the creator, but this interaction shouldn't be one sided. Writing content that reads like a conversation makes readers feel a connection to the person behind the blog, which in turn will keep them coming back.
A comment section is a great place to get feedback from your audience. To ensure that people keep commenting, it's important to respond. Dedicate a small portion of time to responding when a post is fresh to encourage further responses. It's not necessary to respond to every comment, but, responding to some, especially comments with questions, can build a lasting relationship between creator and audience.
Ask Questions
Asking questions can spur conversation. "At the end of each blog post, I have a question, and I invite readers to add a comment," said Friedland. Maybe you want some ideas about what to write next, so ask your audience. This interaction encourages them to tune in each week, especially if they get to participate.
Former Forbes contributor Mike Templeman said implementing surveys and quizzes through social media encourages engagement. This allows creators to tweak their blog based on the responses the audience supplies. Doing this will not only include your audience, but it can also help generate content that your audience wants to see.
Use Social Media
Social media sites such as Facebook and Instagram not only help to promote a blog, but they can certainly aid in engagement. Social media platforms have immersive formats and great features, like stories or groups. Utilizing these features helps you interact with your audience and find out what content they enjoy and what they don't.
Marzec said, "Really, I just try to create content people will want to save or share with their friends. I also love to get DMs, and I love using Stories as a way to really connect one-on-one with my audience members." You don't have to use every avenue possible to interact with your audience. Find what works best.
Don't Give Up
Everyone finds their audience through trial and error. Making connections, finding what works for you and what works for your readers will come with time.
Just like with learning any new skill, practice makes perfect. Readers will respond to content creators whom they believe to be relatable and genuine. Being authentic is a key component, whether it is day one or year ten of your journey. There is a place for everyone on the internet, so find your niche and have fun.
Those looking for
high-quality nursing paper writers
should look for a service that is reliable and has a good reputation. Nursing paper writing services should also be able to deliver papers that are plagiarism-free. To make sure that you get an original paper, ask for samples from a writing service before you choose them.
Category: