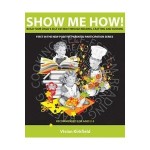 Vivian Kirkfield is the author of "Show Me How! Build Your Child's Self-Esteem Through Reading, Crafting and Cooking."  In her school visits to kindergartens and in her presentations to parent/teacher groups, she shares her passion for picture books and for helping every young child become a reader and lover of books.
Even as a young child, a pencil and pad of paper were always by Kirkfield's side as she was constantly jotting down little poems and stories. Although she wrote many stories for the enjoyment of her kindergarten classes and her own children when they were young, it was not until 2005 that she got serious about writing her book.
Among the dozens of answers to her proposal query to literary agents, several spoke of having a platform. When her book was just about to be published, she set up her website, blog, Twitter and Facebook accounts. Her mission was to provide parents and teachers with a comprehensive resource of picture book recommendations and activities that would help build self-esteem and develop literacy skills.
I wish I'd known what a platform was when I first started writing my book because you can write a great book, but if you don't have a platform – that is, visibility and appeal to your potential or actual readership – your book will probably fail to sell many copies no matter how wonderfully written it is.
I wish I'd known that it takes years to build a social media following unless, of course, you appear on Oprah or Ellen. And, it takes a lot of TIME to monitor and maintain these social media sites unless you hire someone else to do it.
I wish I'd known that the busy people I was targeting would be happier with fewer words on the page and more pictures. Instead of trying to include everything in one book, I could have taken the information and divided it into six books so that each book would be more appealing: thinner in appearance, cheaper in price and less overwhelming in content.
Category: