by James Ryan
No one shall be forgotten who was great in this world.
Søren Kierkegaard, Fear and Trembling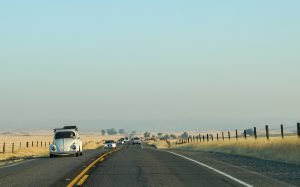 Hot it was, wincing hot. Just another radiator-bubbling August afternoon for the drivers of southwest Missouri. But not for me, a thin-blooded, pale-faced Bronxite from New York City. I felt the full blast inside my graduation gift to myself in the abstract form of my first bank loan—in the apparent form of a newly-minted, white '62 Volkswagen Beetle, its windshield now a splatter of highway insects. Passing through Joplin, two months out of West Point, I was heading to Fort Sill, Oklahoma, for the basic artillery training course for new officers—two intensive months of map-reading and explosions. After four days out from New York City, I was finally in Joplin, ten sweaty miles from the Oklahoma border.
* * *
I knew Joplin from my childhood addiction of reading The Sporting News, a weekly news and statistics bible about the detailed doings of baseball players at every level from major to minor. The Joplin Miners played in the low-level Class C, Western Association league.
An earlier summer in 1950, the eighteen-year-old Mickey Mantle from nearby Commerce, Oklahoma, came to play for the Miners. He made Joplin downright proud and himself famous in New York by hitting a sizzling .383 with twenty-six home runs. It was much more than enough. The big club back east had suddenly found an answer to the rapidly aging DiMaggio. That torrid summer, every Mantle swing edged him closer to the green-grass expanse of Yankee Stadium. Greatness and his real estate inheritance awaited—DiMaggio's pasture in center field. So goodbye Joplin, hello New York, where this day, twelve years later, a thirty-year-old Mantle was now in the prime of a brilliant career. His leap to greatness had begun back in overheated Joplin.
And for me? What was I leaping—more likely lurching—toward in my $1,650 Volkswagen? All remained indistinct, my brain a smog of hesitant hopes and offsetting anxieties. Shorn of the princely protections of cadetship, I had rumbled through five states at fifty-five miles an hour listening to corn and wheat price reports, Bible-thump sermons, and weather forecasts. Always the weather forecasts, always the same—"sunny and hot." But there was music. I could tune in local rock 'n' roll DJs pumping hit songs like "Big Girls Don't Cry," "Sherry," and that ironic cadet favorite about supposedly faithful young love, "Soldier Boy" from The Shirelles.
The VW's radio had a decent range, and programs usually lingered about an hour before scattering into a new signal. Five miles to Boomer Sooner, Oklahoma, and…oh yeah! It's Dion from the Bronx singing "The Wanderer!" And I'm a wanderer too, roaming around and around… Crank it up!
* * *
Besides a ridiculously undersized car for a person six-foot-three, my other tangible realities resided in two B-4 bags, normally called suitcases—new uniforms, boots, related soldier gear, a few books. A duffel bag toted socially acceptable sports clothes, mostly jeans and whatever else seemed to match up. Earning $225 a month as a second lieutenant hadn't much quality except for its regularity. But it was a hundred percent pay-hike since indentured cadet days two months earlier. Assuming a forty-hour workweek—nonsense, since we were always "on duty"—gave us an hourly compensation of $1.41. The 1962 minimum hourly wage was recently hiked to $1.15, having been stuck at a dollar since 1956. While happy days were not quite here again, a gallon of gas was twenty-five cents and so was a movie ticket. And we no longer made seventy cents an hour as cadets.
Offsetting this bonanza was a monthly car payment of $52 to the Highland Falls National Bank, conveniently located just outside the West Point gate in Highland Falls. My VW Beetle was sired locally at Highland Falls Volkswagen, insured by USAA with a branch office you-know-where. I also paid a life insurance monthly premium of fifteen dollars to the Army Mutual Aid Association. AMAA was founded after General Custer's command was wiped out at the battle of Little Bighorn in 1876. With too few survivors to pass the usual collection-hat for widows and children, the massacre gave birth to an insurance company. So if I were to shuffle off my mortal coil, not at all likely from Indian attack, though I would soon be in Oklahoma, my sole beneficiaries, my parents, would split ten grand. My mother's eyes had moistened when I told her. My father had just shaken his head.
* * *
My space-capsule-on-wheels still bored a relentless below-speed-limit hole through the sticky afternoon air. Westward-ho to Oklahoma, with only one malfunction. The fuel gauge had remained optimistically stuck at half-full since Pittsburgh. Every bathroom break enlisted a gasoline top-off.
I entered the state of Oklahoma courtesy of the Will Rogers Turnpike. Will Rogers, a native son, a famous spinner of lariats and stories, a humorist who spoke a homespun candor that poked the great and powerful—"Everybody is ignorant, just on different subjects." The turnpike, his namesake, as Rogers County was his mixed-heritage Cherokee father's. The turnpike would take me ninety miles southwest to Tulsa.
* * *
The scenery suddenly changed; no more scrubland, billboards, and vacant landscapes. Instead, lush meadows, gently rolling hills, and streams that could have watered herds of longhorn. I was in Oklahoma's "Green Country"—and oh, what a beautiful difference it made.
Going forty in the inside lane, I drove like a tourist. I had just passed the exit ramp for Big Cabin. A glance in the side view mirror—a car was in the outside lane—a big black-and-white Plymouth with lots of chrome and tail fins. A minute later, it was still there, lingering. Another glance—it had nosed closer. On its door—"Oklahoma Highway Patrol." I was under surveillance. For what? It had double headlights. And now all four started blinking. A roof rack of red and green lights blared Christmas in August. Was it my casual speed? The patrol car swerved abruptly behind me, red, green, and pure white light suggesting that I pull over, now. My face dripped sweat. Everything was not going my way.
I had been cautioned by seemingly knowledgeable adults, none of whom had ever been near Oklahoma, about speed traps set in far off, alien towns for drivers with New York license plates. But wouldn't any self-respecting policeman be embarrassed for ticketing a Volkswagen? For anything? Most of my classmates had purchased sleek Impalas, suave Tempests, and racy Triumph TR-4s. They drove cockily, left arms hanging out rolled-down windows, just asking for trouble. My Beetle seemed a most pathetic trophy.
What else to do? I pulled over. The patrol car dutifully followed, embarrassing lights and all. I fumbled for license and registration. The police car was mammoth. For the last four days, everything had seemed enormous relative to street-level me. The trooper got out, adjusted his hat, squared away his gun belt, all his gear hanging. He approached with the casual authority of experience. And now he was standing in my window. Rather, his brown-handled service revolver and its black leather holster were standing in my window. I handed him my license.
"Don't bother about the documents," he said. "Just get out of the vehicle and come on back to mine."
"Yes, sir," I said.
"Kill the engine and lock the door," he said.
"Yes, sir," I said.
* * *
The patrol car was a refrigerator, the AC blowing a gale. I sat in the front seat next to the police officer.
"What's your name?" he asked.
I told him. It was the first time I had seen his face. He was friendly with smiling eyes. We shook hands.
"Do you know Ty Cobb?"
"The ballplayer, sir?"
"Well, not exactly," he said. "I noticed the West Point parking medallion on your bumper."
I looked at his nametag—it read T.R. COBB.
"My son is Ty Cobb," he said.
It all came together.
"I do," I said, "I know him. Tyrus Raymond Cobb, the exact name of the ballplayer. Ty is in my regiment, Company E-1, I think. I don't know him that well. He's a good guy. I always thought he might be related to Ty Cobb. Never asked. And now I know he is. He's related to you."
Ty's father smiled. "I pulled you over because it's so darn hot out there. I thought you could use a break." And he handed me a large bottle of water from a portable cooler in the rear seat.
"Ty got married," he said. "The day after graduation."
"Ty works fast," I said.
"How about you?" he asked.
"Marriage, you mean? No, not yet. Where's Ty now?"
"He's at Fort Benning."
"Good choice. Georgia is Ty Cobb country, The Georgia Peach. He'll turn heads with that name. He could run for governor. Like if I had been named Willie Howard Mays and then moved to Alabama."
Officer Cobb laughed. "That's a good one," he said.
I told him I was heading down to Sill for the Basic course.
"I know," he said. "They all come through here. I get a kick out of pulling over you West Point guys," he said, particularly on the hot days. "I give them an Oklahoma hospitality briefing. I've seen hundreds."
"This is a beautiful highway," I said, "a real oasis."
"Yes," he said, "once you get below and west of Tulsa, it gets a lot drier; lots of red clay out west. You'll be staying in Lawton. You can see some good football at Cameron Junior College. Actually, a Cameron grad is up at O.U. in Norman now. Joe Don Looney's the name. He's well-named. Has a lot of the looney in him. But he can run. Can he ever."
"That's good to know, sir."
"Any trouble with your car, son?"
"No sir, only that the fuel gauge is stuck."
"I didn't think the Volkswagens even had a fuel gauge," he said. "Could never understand that."
"This year was the first," I said. "Not that it makes a difference."
"Got a map of Oklahoma?" he asked.
"I do," I said.
"Here's my card, son. If you need anything, call that number. We're hospitable folks here in Oklahoma, and we take care of each other. And we'll take care of you."
"Thank you, sir," I said. "I appreciate your kindness."
"Sure," he said. "Just doing my job as a peace officer."
I laughed. This man who I had never met before had given me a great gift. He had allowed me to see my father in him. And, indeed, all fathers. The poet Wallace Stevens had wondered, "Who is my father in this world, in this house, at the spirit's base?" I felt that I had just visited the "spirit's base" this afternoon just south of Big Cabin, Oklahoma, in the front seat of a police car.
"I'll follow you down the road a piece," Officer Cobb said. "No lights or sirens this time, I promise."
"Thank you, sir," I said. "I enjoyed your welcome."
"Stay well, son," he said. "We're all so proud of you fellows out here. You're our sons. We love the bunch of you. Have for years and years. Always seeing young guys like you on the road to Fort Sill. I get a very American feeling. I love Oklahoma and I love this road and I love the people that travel it."
Back in my car, I glanced at his card: "Tyrus R. Cobb Sr., Officer, Oklahoma State Highway Patrol," and a telephone number.
Officer Cobb did what my father would have done, like all fathers would have done, like all sons who become fathers will do. Leadership by example; the simple act of doing good holds greatness, a greatness worthy of any hall of fame.
He followed me for a mile or so and then drew abreast in the outside lane. He smiled, saluted, and sharply accelerated down the road. I thought he would turn around in one of the U-turns used by the troopers. And so I watched for him in the northbound lane. I might have missed him. I never saw him again.
* * *
And now I know it is not finished.
Enter this world from the spirit's base of all fathers, a baby named Tyrus Raymond Cobb, first-born son of Horace Dixon Cobb of Foss, Oklahoma. Mark the day, a Monday, June 16, 1913. That same day in New York City, a different Tyrus Raymond Cobb, twenty-six years older, now the brilliant centerfielder of the Detroit Tigers, played a baseball game at the Polo Grounds. His double would defeat the New York Highlanders 5-3. He was already called "The Georgia Peach" and a sure thing for the Baseball Hall of Fame. Perhaps the best baseball player ever, so far that year he was hitting a blazing .399. And he had a perfect new namesake out in Oklahoma, too.
Tyrus Raymond Cobb, the Oklahoma variety, along with eighty-five other police officers, was a founding member of the Oklahoma Highway Patrol troopers in 1937. Officer Cobb had served his nation in World War II. He served the state of Oklahoma with distinction and grace until his retirement in 1964, two years after I met him on the Will Rogers Turnpike, just south of Big Cabin.
And for the sake of his name came generations: His son, my West Point classmate, Tyrus Raymond Cobb, Jr., his grandson, Tyrus Raymond Cobb III, his great-grandson, Tyrus Raymond Cobb IV.
Generations carry his name. Indeed, no one shall be forgotten who was great in this world.
* * *
I have often thought of this man's good-hearted generosity. How grand a peace officer. How grand a man—ice-cold water on a hot day. "Stay well, son," he had said.
"Go back to a parent before thought, before speech," said the poet Stevens. "This is my father or, maybe, it is as he was, a likeness."
A "likeness." Yes, I like the idea in the word, "likeness." An Oklahoma policeman, a likeness, a namesake for the idea of a father, an officer of the peace.
How grand to remember a cool ten minutes with this gentleman of the highway. The stuff of memory can bring peace.
Tyrus Raymond Cobb Sr., a father, just like the poet said, "a likeness, one of the race of fathers: earth and sea and air."
And turnpikes.
Category: Fiction, Short Story, SNHU Creative Writing