by Carla McGill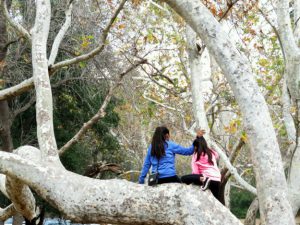 The First Memory—The Last Day of Fourth Grade
It was the year that President Kennedy was shot. We were at different schools, but they were just a few blocks apart. When my teacher found out what had happened, she sobbed, her head on the desk, while Barbara and I looked at each other and at the others who didn't quite know what to do. I don't know who your teacher was or what he or she did. Or what you did or thought when you heard the news.
That year I had trouble with math and a few other things. You were tall for your age, and James, who was also at your school, had a crush on you. He told me this only recently. He said he had a special ring, wanted you to go steady but was afraid to ask you, so instead he rode his bicycle past your house, and threw the ring on your lawn. I envision it there now when I drive by the house, the ring now in the dirt at least a foot below ground and sullied by the years. The grass covers it up, as if it never happened. The square, two-bedroom house on the corner, not far from your elementary school, is still there and looks nearly the same. I have a photo of you (I took it off someone's Facebook page) on the last day of fourth grade. Your hair is short and curly, and your white-and-pink-flower-print dress looks like one of those sleeveless A-lines your mom used to make. A boy has his hand on your shoulder, and it looks to me as if you are hunching slightly, perhaps to look less tall, to be at his height. You are smiling. I now wonder what you did for the rest of that day.
James also told me he wanted to impress you one day as you sat on the curb, so he ran and tried to jump over your head. The fact that he missed and kicked you in the head did not help his cause. I never heard you mention the incident. You didn't know, of course, that while your father was drinking too much at home, James's father was drinking too much at the American Legion along with my future father-in-law and two of my uncles. You didn't know that my father was drinking too much at one of the bars on the main street of town and would stumble home that same day, cause a fight with my mother, and leave again, not returning for several days.
The Second Memory—Drill Team
I am looking for your picture in our yearbook from seventh grade, the year I was not on the school's drill team. In those days we went from seventh to ninth grade, and they called it "junior high." There you are in the second row of the long, panoramic black-and-white photo. The shadows fall on the faces of many of the girls, but the sun is shining upon yours. You still have short hair, not as curly, and the same smile, the optimism you always had.
In the background I see the familiar street that bordered our football field, and a house partially hidden by palm trees. I stayed there with Sandra and her mom when my parents were having troubles. Her mom's knickknacks were extensive, and I studied them in the living room. One was a miniature lion, situated next to a lamb. One shelf was all birds. Two tiny bluebirds with smiles on their beaks. An owl. Later Sandra and I made popcorn and lounged around in her bedroom, which had a pink ceiling. Despite the hundreds of items sitting on the tables, cabinets, and shelves throughout the house, none of them needed dusting.
They took all of the group photos out on that football field. Your older sisters had also been on the drill team, so it seemed natural to you, and you talked me into joining for eighth grade. I had no siblings, and you felt like a sister, so I took your advice. I have fuzzy memories of marching in the homecoming parade and the annual town parade. I have a distinct memory of the back of your legs, marching in time, marching perfectly, setting the pace for the rest of us. You were the perfect marcher. You really were.
The Third Memory—Not Really Distinct
It's just a memory of the overall imagery of those years. The Ninth Grade Area as we walked across or sat on the benches, now fully aware of our status. It was next to the library, where we had all hidden out during the race riots, watching through the window. The adrenaline shot through me when I saw a fist hit a jaw, people tumbling on the pavement, the poor older teacher with a garbage can over him, the students throwing rocks at it. The fierce winds. The cobalt blue mountains to the north. The feeling I often had that my interior world was being torn and scarred, and the image of my quiet grandmother just over on the next street. How often I wanted to hide there in her peaceful house, just sleeping or singing hymns in Finnish with my grandfather. I am imagining you without cares, though you may have had them. I see you walking, your upbeat stride, your smile, your confidence. Though here in another yearbook from ninth grade, I see that your smile is just ever so slightly forced.
The Fourth Memory—The Palm Reader
The Palm Reader, our school newspaper. You: editor. Me: assistant editor. The two photographers who became much-needed support in my high school years when my interior world was fragmented, and I struggled to find ways to mend myself. The reporters; one dead now, a suicide. The other, the daughter of a prominent town member caught in a sex scandal of some kind. I have not seen her since that year. Two of the typists, still friends of mine. I will be seeing one of them soon, and we will speak of these things, The Palm Reader, the winds, and the suicides. Plus our admiration of your ability as our editor to get things done on time.
The Fifth Memory—Rehearsing
It stayed with us for life. We were the leads in the school play. We spent evenings rehearsing, and we became those other people, the characters. What mattered was that we were there, and everything was electric. We felt alive and good. We laughed. We forgot about the other things, that my dad had gone and that your dad was still drinking every day. We focused on new things. The main thing for me was that I was following your lead; you seemed to know it, and it was all right with you. You were the front-runner, and you did such a good job. You went on to do more drama in high school, while I went another way, into more confusion. I will never forget that stage or that set. I can see it now. I can see it in the yearbook, and in a deeper place where images and memories mix, a melancholy place.
The Sixth Memory—Hearst Castle
It was a weekend trip with my mom. At first you said you couldn't make it, knowing there would not be enough money. After you hung up the phone, your mom asked you about it. Call her back, she said. Tell her you can go. My mom was still in her thirties and newly single. We drove to Hearst Castle and took the tour. The pool astonished us. You especially, having been on the town's swim team for so many years. The opulence gave us hope. We went to a movie also. I can't recall the hotel or the drive home, but I do remember our excitement on the Pacific Coast Highway on our way up there. This was the only weekend we ever spent together.
The Seventh Memory—High School Montage
You in many plays. Me: big changes. Religious experience, a few months and then back into darkness. You on student council. A thespian. Still a leader. You and your boyfriend, the orchestra conductor. My boyfriend was in a rock band. No dates, just band practice and then kissing. You at the prom, Grad Night, you going to club meetings. I bought some blue-suede shoes, was so proud. I found some friends and we journeyed together through those years. They are still with me today forty years later. I saw you a few times, and we knew each other well enough to not drift inwardly even though we drifted outwardly. Somehow, to my surprise, we both got the desired scholarship to the same university.
The Eighth Memory—A College Prep Class
You and I drove into Los Angeles every weeknight for one week. How to Study in College. How to Succeed in College. Something like that. You didn't know that I was tormented by some things that had happened. You were your positive, happy self. That week was medicine. That week was healing. You never knew. You never knew that each evening when you picked me up, it was like a hand to someone drowning, a blanket to someone shivering.
The Ninth Memory—Leaving for College
You and Cheryl picked me up in her beige station wagon. My mom was newly married. I was scared to leave home. Dorms, a few dates, classes. I sometimes avoided classes, stayed in the dorm, and watched Star Trek, too scared to face things. You went to all the football games. Both Cheryl and I left after one year to go to other universities. You stayed, graduated, became a teacher. Got a job at the same elementary school where you went, where you had that smile on the last day of fourth grade. You were bravely consistent. You were exactly right.
The Ninth Memory—Your Wedding
I had just started dating the man I would marry. He attended your wedding with me, and we chose your wedding gift together, a modern gold flashy painting. It was never something you really liked. Years later, we spoke about it. You never liked it, did you? I asked. You put your hand over your mouth. And you still like me? you said. We had a nice laugh over it.
The Tenth Memory—Reunion
You had memorized the entire yearbook, not that you needed to do so, having an almost eidetic memory. You called everyone by name without looking at their badges. We spoke of your children. You could speak Spanish, so you taught them. They grew up and became doctors and professors. You traveled with them when they were young, taking them to every state, every province of Canada. I visited your home later with its ongoing construction. The one completely finished room, all Art Deco, your favorite style. I saw one of your boys recently. He is taller than you were, and he has your look, your optimistic smile. I had written you a card for the reunion, but it was lost there before you could open it. Now I don't recall what I said, but I hope that whoever found it thought it was inspiring. We wrote many more cards to each other after that.
The Eleventh Memory—The Dinner
I realize that I am leaving out the time that we had a falling out. We didn't speak for years. Then an e-mail. Can I attend the dinner? you asked. It was going to be a festive time with high-school friends, favorite teachers. I said, Yes, please come. You were the first guest to walk into the restaurant. Your immediate smile. I love you, you said, hugging me. I love you too, I said. We never talked about the conflicts again. I am so glad for that dinner.
The Twelfth Memory—The Last Time
I will not be able to shake the initial thing that happened when I walked into your home. It was a peculiar physical sensation. Your son answered the door, and he and your husband were leading me to the hospital bed set up in the room by the kitchen so they could talk to you while they were cooking. I could only see your legs because your husband, standing in front of me, was blocking my view of your head and shoulders. I had thought you would be sitting up, maybe in your pajamas, feeling chatty and sipping tea. I did not know that you had slid off the couch the week before, unable to hold yourself up at all. I did not know that it was so close to the end. I had only a small glimpse of the hospital bed, but I could tell that you were not sitting up, not moving very much. Though my body continued walking toward you, something within me turned, went the other direction. It was like a wind blowing through me, removing my presence. Odd because the wind was blowing that day, those cruel winds that blow through the mountain passes and on down into our already dry valley by the foothills, tearing up the trees, blowing over the semitrucks. I had to call my presence back with mental determination; I had to insist that it come back as I was there talking to you, but I felt that I was not fully there.
You could only whisper and had already lost the use of your hands. You had stopped wearing your wig. You were unable to move your head, yet you smiled at me. I suppressed tears. I smiled back at you. Touched your forehead. I remembered our astonishment when we saw Hearst's pool. Now I was astonished again. For the forty-minute drive home and on through that week. It was the last time I saw you.
The Thirteenth Memory—The Memorial
At the memorial, a large crowd. Your sisters greeted all of us. Your mom, the tears falling steadily, rapidly. Yet she gave me a hug. It is not surprising that you had so many friends because you were outgoing. You had been on juries and remained friends with the jurors. You had friends in Europe, Australia, and New Zealand from your travels. Students and teachers from the years. The enlarged photograph of you at the front of the church undid me. Not air-brushed or professional, just an everyday photo of you on one of your trips, wearing a knit cap, looking off into the distance. Your emblematic smile. All through the service, it seemed to me that you were still marching in a parade, leading the drill team down our main street again. I can, even right now, a year after the memorial, and so many years since our drill team days, see your legs marching. You were the perfect marcher. You really were.
Category: Fiction, SNHU Creative Writing, SNHU online creative writing