by Michael Sandler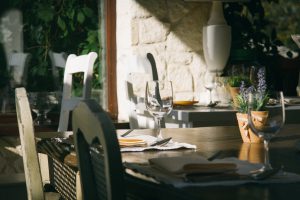 As I approached he stood haltingly, kyphotic
and aged. Perhaps he saw my chest thrust, rodding
my back as if to overcome the torque
of my own crooking hinge, its rust and abrade.
Over appetizers and wine, disquiet ran
in background mode while routine smiles and talk
engaged distant years—these things automatic,
conversant cogs meshing long-ago friends.
But by dessert, anticipating the check
on how we stood, unease swelled to a dread.
It distanced our departure, my stride beside
his hobble—you'd think my brogues impressed a mark
his shuffle couldn't. We hugged on the street, thin
weight of his thereness against my conviction.
Then parted. As though warned, I tried not to look back,
soles thumping, the Earth's rotation quick.
Category: Poetry, SNHU Creative Writing, SNHU online creative writing