by Michael C. Keith
Everybody is dealt a hand of cards. It's the way
you choose to play them that matters.
                                                                          – J. P. Carson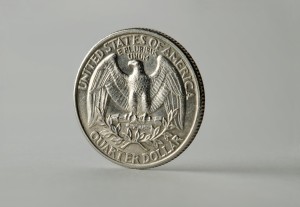 Gabe never forgot the thrill he experienced as a kid back in 1952 when he found a quarter on his way to school. Part of a poor family, that coin was a veritable fortune to him. He'd never had that much money of his own to spend as he wished, and his heart jumped as he wiped the dirt from the quarter and inspected it closely. The coin's date was the same as when he was born and this added to his excitement. His head swirled as he considered how he might spend it.
Lavoi's Drugs was on his route to school, and it was there that his friends bought their penny candy and packets of baseball cards. The prospect of owning a bunch of those cards caused Gabe to up his pace. Not only would his incredible windfall get him a dozen new cards for flipping, but they would also provide him with enough bubble gum to last for several days . . . that is, if he didn't share it with his sisters. Maybe I'll give Sara and Judy one piece, he thought, and then he changed his mind. They wouldn't share any with me. They're so stingy.
As Gabe approached the store, he clutched the precious quarter and dreamed of unwrapping a load of baseball cards with pictures of the game's greatest stars of the day. Every kid in the mid-1950s coveted cards with star players like Stan Musial, Yogi Berra, Warren Spahn, Joe DiMaggio, Willie Mays, and Ted Williams. Any one of these cards could be exchanged for ten or more regular cards. But the Ted Williams card was valued above all others in Gabe's hometown of Woonsocket, Rhode Island. To get a card with the Red Sox ace hitter was to strike the jackpot. It could bring as many as 20 cards in a trade.
The display of baseball cards was the focal point of the neighborhood boys who stopped at Lavoi's on their way to school, and Gabe was afraid that they might be picked through by the time he got there. The store had run out of the prized items more than once. However, to his relief, the stock of cards was plentiful. Moreover, just one kid was there before him, and after a couple of minutes, he left without making a purchase.
Gabe counted out an even dozen of the wrapped cards and was about to take them to the cash register when he was struck by a feeling of guilt about spending the quarter on himself. I should give it to Mom for bread or something, he considered. She really needs it.
But then he thought about the Ted Williams card he was sure would be found in the stack he held in his hand . . . and he came to his senses.
#
Michael C. Keith teaches college and writes fiction. www.michaelckeith.com
Category: Fiction, Short Story