by Laura Schulkind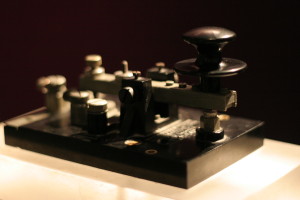 I.
My father could translate anything into Morse code.
As a child, I never considered why.
It is what fathers did.
And I would demand translation of the ridiculous—
Milk the fat cow. Cock-a-doodle-doo.
Anything to make him laugh, easy in himself.
That is what daughters did.
It would be years before I found his maps in the attic,
mildewed, frames broken.
Normandy to Berlin.
II.
I find my father's sketch pads
wedged behind his file cabinet, and
lay them out across the floor,
hoping he will accept the invitation.
Together we slowly flip the pages,
charcoal nudes mostly,
women and men in swift pencil strokes.
With each share a word or two
about balance or proportion,
yet not at all about balance or proportion.
We come to a quick sketch of a woman, a
few curved lines suggesting a backward glance.
He says he thinks this one has movement.
I say yes, it is very alive,
and mean I will miss you so.
He is unhurried,
for which I am grateful.
Another page.
He says he remembers the model.
I ask whether she was a student,
and mean, don't stop telling me your stories.
We open the smallest of the sketchbooks.
A sudden page of color and fruit.
He says it is a still life.
I say yes, it is a still life,
and mean, I regret not asking you more questions.
III.
He reaches out,
traces the softened lines with a
sweep of his hand,
and I remember how he could skip any stone.
And how I tested that.
Brought him impossible tasks.
Watched as hefted my craggy finds
in the palm of his hand.
Then, he would lean his body into the throw,
and we would count together,
each priceless, weightless moment above the flow.
Category: Poetry