by Michael C. Keith
I thought a stick was a snake. Until it bit me, and then I knew.
                                                                        – Jarod Klinz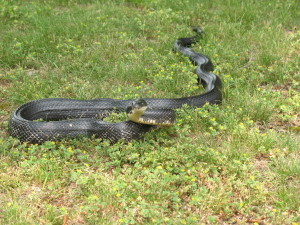 The snake seemed as wide as the dirt road that led to our base located at the edge of the Everglades. We were coming back after a ride in Floyd's powder blue 1962 Chevy Impala convertible that he'd bought with his re-up money. He had never owned a car as new and cool as the Chevy, and he sat in the driver's seat like a king on his thrown.
"Will you look at this bad-ass baby? Ain't she some kind of beauty?" he gushed repeatedly. "Two years old, but she look brand spankin' new."
We all enthusiastically agreed, and I wondered what it must look like to people as we moved through the streets of tiny Carol City, Florida, just a couple miles from the army missile site where we were all stationed. By some of the curious looks we got, I figured folk must have thought that Bob, Roddy, and me were being driven by a chauffer because Floyd was colored.
"Yes sir . . . damn sure better than my '53 Ford. Car only had two gears when I give it to my lil' brother after I signed up. He could only get it going to 10 miles an hour. That was enough for him, 'cause he was just 12. Pretty soon it could only go in reverse, but he drove it that way. Got in trouble when he backed it all the way into town, so he's ridin' his bike again."
"They let kids that age drive in Georgia?" asked Bob. "I didn't get behind the wheel 'til I was 14. Tennessee got tougher laws than Georgia, I guess."
"Seems so," said Floyd, with a bright toothy grin. "Look here now. We riding in one sweet-ass beauty . . . ain't we, boys?"
"Yeah, man, one sweet-ass beauty," I echoed.
Unlike Floyd, Bob had a mouthful of rotting teeth, which gave him the worst breath I'd ever smelled. I usually managed to stand far enough away from him to keep from being hit by it, but this time I was sitting next to him in the back seat of the car.
"You got to be 15 and a half to drive in West Virginia. And then it's only a learner's permit," chimed in Roddy, who sat next to Floyd in the front. "I didn't get a license until I was 21 and got money enough to buy my own car."
"Did they have special pedals so your feet could reach them?" cracked Bob.
Roddy was no more than five foot four, if that, and he was constantly ribbed because of his shortness. He seemed to take it in good stride, but I sensed it bothered him more than he showed. It was Roddy who first spotted the snake.
"Holy crap! What the . . .? Look at that goddamn thing!" he blurted, pointing ahead.
"Oh, lordy!" gasped Floyd, hitting the brakes.
But he was too late and the car ran right over it.
"Well, that's one dead snake," I said, as we all turned around expecting to see a flattened carcass.
But there was no snake to be seen. "Where the heck is it? It ain't there," said Floyd, panic rising in his voice.
"Maybe it got away. They move fast when they got to," observed Roddy.
"Could be it climbed under the car," I said, not anticipating the consequences of my remark.
"Shit!" bellowed Floyd, hitting the accelerator.
"That mother could come right up inside the car, man," shouted Bob, and we all lifted our legs onto the seats.
The last mile to the base was covered in record time, although the large ruts in the road nearly caused us to be thrown from the convertible. As soon as we reached the parking lot, we all jumped out of Floyd's prized ride without even opening the doors.
"Aren't you going to put the top up?" I asked Floyd, who now stood further away from the car than any of us.
"No damn way I'm goin' near that thing 'til that snake is gone for sure."
"But it's going to rain. You know how it is this time of year. Clouds open up like waterfalls. That Chevy of yours will fill up like a tub," said Roddy.
"Don't care. As long as that snake is in there, you ain't gonna' find ol' Floyd near it."
"I bet it's not under it," I offered, trying to coax Floyd into putting up the cover. "I mean, how could it jump under it when we were traveling so fast, anyway? Probably got flung away by the back wheels and ended up in the brush."
"I heard about snakes getting under cars when people ran over them," said Bob, and I gave him a fierce 'shut up' look.
"I think it would be pretty impossible for a snake that size to just disappear under your car that quickly, man," I pressed.
Trying to get back in my good graces, Bob added, "Yeah, Floyd, he'd have to have super powers to move that fast."
"That's what I'm afraid of. He's some kind of a monster serpent. Maybe mix of alligator and python. Forget that, man. I'm going to my tent and get some rest," said Floyd, moving toward the entrance to the base.
"Someone should put the top up," I said, but when both Bob and Roddy remarked that they wouldn't go near the convertible in case the snake was still there, I figured to leave it alone as well.
As we headed to our respective billets, we joked about how Floyd looked as white as we were when he thought the snake was somewhere under his new car.
"Didn't think colored guys could turn pale," observed Roddy, "but Floyd looked like a ghost."
*          *          *
Four days later, after nearly continuous downpours, Floyd's car remained right where he'd parked it––and with the top still down.
"He says he might check on it tomorrow. The inside must be ruined by now. Too bad, it was such great looking wheels," said Bob.
"A fish tank now, I bet," added Roddy.
"Yeah, that poor guy has a messed up car and three more years in the army to show for it," said Bob.
Actually, Floyd had more to show for his time in the military than a damaged car. He had dropped out of school in the 9th grade but had managed to get his high school equivalency diploma while serving in Korea. He was a corporal and would probably make the rank of buck sergeant during his new enlistment. In the end, not bad for a colored guy from a backwater town in southern Georgia, I thought.
"It'll dry out. Seats might be a little soggy at first, but it should be basically okay," I commented.
"That snake might still be in it," remarked Roddy.
"It probably drowned if it was," said Bob.
"The sun's out. Let's go check it out," I suggested.
The three of us approached the car cautiously. First we checked its underside from a safe distance in case there was any sign of the snake. We then looked inside and were surprised when it didn't resemble a water trough. The rainwater must have drained out, we concluded.
"Careful, it might be coiled up under the seats," said Bob, as we stood scanning the convertible's interior.
With considerable trepidation, we opened the car's doors fully expecting the snake to slither out at any moment.
"It ain't in there," observed Roddy. "Let's go tell Floyd."
Despite informing him that his car appeared free of unwanted life forms, it still took a heap of convincing to get him back near it. When he finally gave in and went with us to the parking lot, it took him a good five minutes to get close to the opened doors. It was another 10 minutes of hesitation and reckoning before he dared sit in the driver's seat.
"Shit, my ass be all wet," he complained, slowly wrapping his large black hands around the steering wheel
"What'd you expect? It's been out here in the rain for days," said Roddy.
"Guess I'll take it down to the gas station and get it on the lift to make sure that snake still ain't underneath," said Floyd, cranking the engine. "Listen to that, will you? Least the rain didn't mess up the motor. She purring like a kitten."
"Good luck," I said. "Hope the snake doesn't drop on the mechanic's head."
"Well, if it drop on anyone's head, it gonna' be his, not mine. Ain't gettin' under there, I'll tell you."
"Good move," said Bob.
"C'mon, guys. Get in. Come with me," said Floyd.
We declined his invitation and watched as Floyd started down the dirt road toward town on his own. He was only about a hundred yards away when we heard him scream and saw him jump from the car. It continued on without him and veered to the right, disappearing over an embankment.
"What the hell . . .?" yelled Roddy, as we ran toward where Floyd was standing.
"What happened?" I asked when we reached him.
"It was under my seat and stuck its head up 'tween my legs. Thought it was gonna' chew off my balls," replied Floyd, truly shaken.
"Holy shit," said Bob. "Let's go see where the car ended up."
Floyd refused to venture anywhere near the brush and stayed back by the road as we went in search of his runaway Chevy.
"It's in the canal," reported Bob, who had run ahead of us.
Sure enough, half of the car was submerged in the narrow waterway.
"Well, that killed it. Shot now with the motor in the water like that," said Roddy. "Not worth a shit no more."
When we informed Floyd of the fate of his beloved vehicle, he smiled and appeared to breath a sigh of relief.
"Bet that ol' snake got his comeuppance."
"But what about your new car?" I asked. "You can get it towed out of the canal. Maybe it can be saved . . ."
"No, I'll let it stay right where it be. Heck, I'll reenlist in three years and get me another."
On our walk back to the base, we all began to laugh at what had happened . . . and ol' Floyd laughed the loudest.
#
Michael C. Keith teaches college and writes stories. www.michaelckeith.com
;
Category: Fiction, Short Story