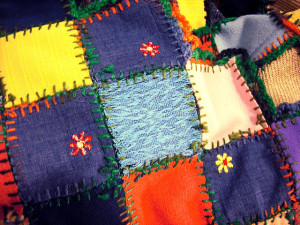 By Dorothy Crawford
Walking into the room was like walking into a box of kindergarten crayons – red and yellow, green and blue – but that was exactly what she'd wanted.
She'd spent months searching for the perfect furniture and had finally found the crib at a yard sale and the dresser at a resale shop. She'd spent weeks sanding and painting their straight lines and rounded edges. The white dresser's four drawers were each a different color. The crib's head and footboards were painted white, and the twelve bars on each side were painted alternating red and yellow, green and blue.
Her mother-in-law had made the bumper pad and the quilt by hand – blocks of red and yellow, green and blue. Her mother had crocheted the color-block afghan that was draped over the back of the white rocking chair with the red and yellow pillows. The white walls were decorated with giant alphabet block stickers, and the hardwood floor was painted bright blue. The sun shone in through two clear windows, between the mismatched curtains of red and yellow, green and blue.
Propped up in the corner of the crib, the color-block teddy bear that she'd made with her own hands sat waiting to be loved and hugged.
She stood in the open door, taking it all in. Everything was exactly the way she'd wanted it to be. Her son's nursery looked like a picture from a decorating magazine. She'd spent so many months planning, furnishing, painting, and decorating. She'd spent so many hours sitting in the rocking chair, imagining the sounds of his laughter, his first words, his tiny little cries.
She couldn't believe the wait was over.
There was only one thing left. There was only one thing missing.
She had to force herself to step into a room that she'd once run to. The eagerness of anticipation had turned to grief. The heart that had been so swelled with love was empty. The tangible joy had become physical pain. She didn't even try to hide the tears.
She crossed to the dresser and put the small frame on top of it. A picture of a face that would never age and eyes that would never open again. Prints from a hand that would never catch a ball and a foot that would never run through the yard. A name she would never call out in either pride or irritation. A date that was supposed to be a yearly celebration of joy but that would be an anniversary of pain.
All written in block letters in alternating colors – red and yellow, green and blue.
Category: Short Story, SNHU Creative Writing, SNHU online creative writing, SNHU Student