by Scott Patterson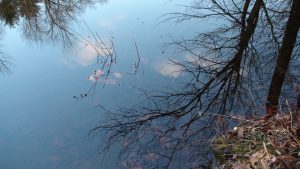 I am the hanging tree, with a thirst for saltwater
windswept but strong no shade from the sun
I command the sky above the sea
but not your twisted path here
among the weeds.
I am the hanging tree, supported by century old roots
Black-burgundy birds remembering past deeds
that stick damp between you and your clothes
It sticks under your nose
but today you cannot sense a tomorrow.
I am the hanging tree, the only way to the ground
the swift snap blunders into a slow squeaky-squeeze
that begs your family to pull down from your knees
with a last tearful please
to shoo your suffering soul away.
I am the hanging tree, I feel the weight of your fledgling candles
in the glide of tearful swings
that pulls the water into your heart
making your fire into steam
your steam into piss
that drips from your boot
as an offering to me.
I am the hanging tree, a place for these black-belly birds
that command the russet worms
beneath the puddle of mud now under your feet
what they demand from you is what they demand from me
to witness the laws of water
that take a candles fire
into a future without you.
Category: SNHU Creative Writing, SNHU online creative writing, SNHU Student