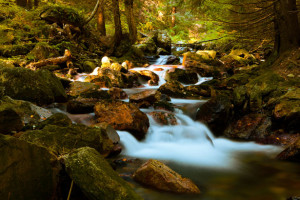 By James Rushmore
The waxing moon balances on the pine.
Lonely brook meanders through the scrub brush,
The mayflies hatch without mouths; No need to
Eat; But just to make love without kissing.
The June night befalls the fallen fish mine,
The honey bees sleep, the petals close; lush.
A mosquito buzzing my ear, I shew
It to my quiet neighbor: slaps, missing.
Unsated trout bit with lust; I count nine
Burning bodies above the smoking brush.
There was one, however, that left askew
No longer catching, now only fishing.
And though the others will taste sweet and fine
The one that left me called the two of us.
It fins below the moon and channel flue
Alone under falling stars and wishing.
James Rushmore
Category: Poetry, SNHU Creative Writing, SNHU online creative writing