by Joseph V. Kleponis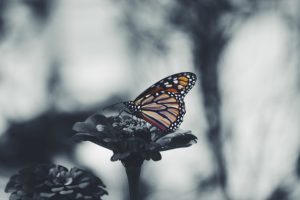 I
Two monarch butterflies,
Four orange, red and black wings,
Violate tiny wild violets.
                 II
Two towheaded boys,
Toy pistols in hand,
Charge down the hillside.
              III
Two milkweed seeds,
Crazy lost snowflakes,
Bend tips of blades of grass.
              IV
Two jays,
Jetting through the trees,
Tangle over worms. 
              V
Two brown caterpillars,
Dangling from a branch,
Devour green leaves.
             VI
Two lovers,
Overturning their best friends' trust,
Consummate a tryst.
Category: Poetry, SNHU Creative Writing, SNHU online creative writing