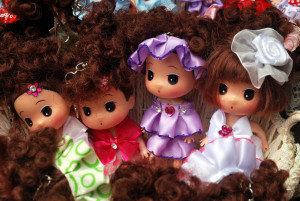 By Peycho Kanev
Two Girls play in the Shade, by an Oak,
their plastic dolls are battered and eyeless.
the Sun tries to kiss their sweaty cheeks,
but the Shade encompasses the small bodies.
My old house sits quiet, on the street.
I sit in a rocker behind a drawn shade.
Could it be different if Flaubert was here,
smoking his pipe and laughing at the world!?
I shut my eyes and my body drifts away,
floating airily above the lifeless ground,
and soon I reach the hushed churchyard.
Now, listen to this!
what if that's not real and the wisdom of
the stones is just my own stupidity;
Is it too soon to scream- I open my eyes,
and the headless dolls fall off my lap.
Category: Poetry