by Mike Cohen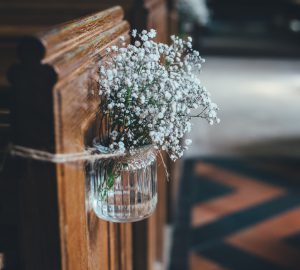 First of all, I have to thank Mrs. Popkin. I mean, Alice. I know, I know. I'll try not to do that again, Alice. But it's hard to call someone Alice who drove you to Hebrew class, not to mention dancing lessons, when you were a little girl. Anyway, Mrs. Popkin—Alice—called to me in Berkeley and said, "Jackie Blumenfeld, you know how disappointed Celeste and Ben would be if you sat on your hands and didn't say something at the rehearsal dinner before their wedding."
Something perky and funny. Little stories.
"After all," Mrs. Popkin—Alice—said to me, "Jackie, you're Celeste's best friend."
The trouble is, talking is Celeste's game. Celeste is going to be a great lawyer. That's it; let's hear some applause for that one. That's good. I'm pretending that the clapping is for me and for the poem that I wrote but that you haven't heard yet.
Talking like this is hard for me, especially with this microphone that Alice handed me. And my champagne in the other hand.
Talking like this is not something that I do well. I'm too dreamy. But I love Celeste so much that I couldn't say no.
Right now my knees are shaking, but I'm here, Celeste. I promise I'll do my best. Really. Because if I hadn't been Celeste's sister for all these years and watched her fearlessness and commitment to getting what she wanted no matter what, my dreams would have been so small, so cramped.
Oops.
Sorry for hitting the microphone. I lost my balance. You know, it is really hard to hold the microphone in one hand without spilling the champagne in the other. Now that I've spilled my last one, it's time for a refill to get me going again.
Waiter! Fill it up! Thanks; that's good. And I truly believe that your bubbly stuff does swallow easier than the expensive kind.
Oops. Sorry about that, Mrs. Popkin—I mean Alice.
Remember, I wouldn't be here without your call.
And all of your family, Celeste, they are all here: Uncle Mort, Auntie Faye, Grandma Popkin, all those Popkin cousins Celeste always talked about. And Ben's family too. I can see that you are all waiting for me to tell about my friends, Celeste and Ben, who are marrying tomorrow.
Where does this start? It starts when my mom and dad divorced, and Mom and I went to L.A. Celeste and I were the only Jewish kids in our third grade. Then we went to camp together. By high school I loved Celeste as if she were part of my own skin, my own soul. So Celeste and I have been sisters forever, since grade school, as you can see.
I have always been so proud of Celeste. In high school she was the editor of the newspaper and on the cheer squad, and of course, she got into Princeton.
I was French Club secretary. That's it. "FCS." Right by my name in the high school annual.
Anyway, in high school Celeste always called me when she got home from her dates and told me all the details about the party and the people there, all about her latest boyfriend, the smell of his cologne, the car they drove in. She always promised that I could go next time, but we never seemed to.
No biggie.
In college we always saw each other when Celeste came home from the East. I was so thrilled to have my Celeste back when we went to grad school at Berkeley, and together we rented that cute little pad on Cheswick Street. That's where we both met Ben.
I met him first.
No biggie.
Anyway, after Mrs. Popkin—Alice (there I go again)—called me and asked me to talk tonight, I went straight to Muriel, Muriel Gardino. She's my friend. And my therapist. I decided against a Jewish counselor. Too much approval involved. I chose Muriel, because I sensed we could have an adult relationship right off the bat. She was so up-front. I know, it's a sixties term. I mean, it doesn't have to be just shouting "Shit" and "Fuck" in a crowded room, you know.
What's that? You can't hear me in the back of the room, Grandma Popkin? I'll speak up, I promise.
Is this better?
Anyway, Muriel says that being up-front means being honest. So I said to Muriel—after Alice called—"How can I stand up at Celeste's wedding and say what I feel inside?" And that Muriel, she broke form. Counselors are never to tell you what to do, but Muriel is really my friend.
She said, "Just be up-front."
So, Muriel, here's to you. I'll try. Here goes.
Celeste and I used to lie in bed late at night, just like those Jane Austen characters. We would duck under the covers and share our dreams, giggling all the time about what our boyfriends might be like. You know, their bodies. We swore an oath that we would never tell our secrets. Our "erotic naïveté," I think Celeste called it. Maybe it was just my naïveté.
Well, Celeste, I think I am going to break my oath.
Celeste, how could I not tell them that you were amused at how easily your boyfriend's pants got stiff when you would get up from the couch and lock the door? Do you remember you used to tell me that you dreamed of being a stripper and that you longed to learn how to pull down a zipper with your teeth?
Alice, don't you dare try to take the microphone from me! Just keep pouring the champagne, remember. Then sit your big behind down, OK?
OK.
Anyway, those were the kind of sweet fantasies Celeste and I shared for years. Knowing you, Celeste, has changed me.
"Be up-front," Muriel said. That's my goal.
It did upset me. I'll be honest. It did upset me, Celeste, when you moved out of our unit and in with Ben, leaving me right in the same building. Ben and I had talked, too, you know, before then—deep talks on long walks together. Just the two of us. Remember, Ben? You told me that you might teach math; no money in teaching, is there? But—up-front—Ben, you would be a good math teacher too.
What business are you in, Mr. Popkin, wholesale toys? That is what the Popkins do, isn't it? Toys? And Ben's going to be in the Popkin business too! Lechayim!
Empty flute over here! More champagne, waiter!
Then I will read my poem for you.
What? The champagne is gone? Let's move to bourbon. Bartender, brown one up for me so I can get to the poem.
I must ask you, Celeste, how did you ignore Ben's grungy socks, the underwear piled in the corner of the room, the golf clubs, the beer bottles, all those sexist posters of female tushies in bikinis on the wall?
Then I questioned myself: why had I ignored Ben's insipid laugh, his talking all the time about sports? Could I have mastered that look of wonder—Celeste, I really admire you for that one—you looking up at Ben when he was filled with passion over the Lakers in the playoffs?
I'm sorry, Grandma Popkin. You're right. If you have to stand up, I'm not speaking loud enough. I'll shout if I have to.
Who took my damned drink? Alice?
Thanks, waiter, for the new one. At least you are with me.
OK.
Celeste, before you moved out to be with Ben, you always said that you were above the limits of relationships. You were on your own for good. But I said, "His eyes are nice though, aren't they?" And you said you'd never noticed. You said that you didn't need a guy now.
Surprise, Ben.
Maybe it's my imagination, but, Celeste, it seems so clear that my dreams and your achievement seem so intertwined. I feel like an electron darting around a nucleus, solid and strong, sparking a color here, a passion there. And then you, Celeste, get the experience, and I get to watch. Here I am watching again. It's OK, but what is it? Am I missing the boat, or are you happy only when you take something that somebody else wants too?
No biggie. Butt out, Alice. Sit it down, it's my microphone, not yours!
I haven't forgotten the poem. Hold up your glasses, everyone, like it's a toast! Here goes:
Celeste is like a sister mine.
Our bond has been tempered by time,
And forever we vowed that we would not rely
On males, who might use us, fool us,
And maybe, even here and there, lie.
So how did we end up chasing the same man?
Was it an accident, or was it your plan?
Was it just as you always rehearsed?
A race in which you finished first?
But why should I be surprised?
You have been competing with me all of our lives.
The last line doesn't exactly rhyme, does it?
No biggie.
Anyway, maybe tomorrow when you and Ben stand under the wedding canopy in front of the rabbi, say those words, and exchange your rings, you might think about my little poem. I wrote it just for you, Celeste.
OK.
Remember, I'm just kidding. It's all in jest. And fun. Right, Mrs. Popkin…Alice? Isn't that what you wanted me to do? Little stories?
I love you, Celeste.
Really.
Category: SNHU Creative Writing, SNHU online creative writing