By Alison Hicks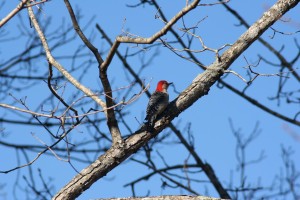 From the glass door in my father's room
we watched the acorn woodpecker
hopping up and down the trunk of the pine.
Anne had brought birdseed, stored it behind the door.
We admired him. I was nervous about the visit,
afraid of Anne. I didn't know her very well.
Now it was almost over, and pleasant enough.
In my mind I gave thanks to the woodpecker,
who couldn't seem to decide where to stash his quarry.
Then Anne fixed me, one eye magnified behind her glasses,
What are your plans for him?
Meaning my father, in the bed between us.
He played along, gave no indication
that either of us were there, staring out the door
at the woodpecker. I said recovery first,
then assisted living, maybe, I don't know, we'll have to see.
Going out, in the hallway she was far enough ahead,
I could have just let her go. But that felt wrong:
she was my dad's friend, she had brought the birdseed,
we had watched the woodpecker together.
I called out to her, thanked her for coming.
She turned and took my measure
through her looking-glass.
I never thought it would come to this.
I allowed myself her accusation: acorn forced into a tree.
I was to blame for the decision he had made,
from which everything had gone wrong,
as she'd known it would.
Category: Poetry, SNHU Creative Writing