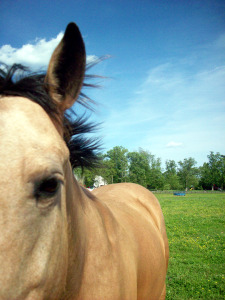 by Jonel Abellanosa
Time now passes as palomino in summer,
In the rainy season roan, always entire,
Never jade, balky not just at midlife,
Eye-catching musculature between
Crupper and hock, withers and pastern,
Strength difficult to hamshackle.
Decades ago, the tartanilla lumbered,
Papa beside me, paying the old man
To steer the two-wheel carriage back
And forth Sanciangko. This riding stilled me,
Not the view, my curiosity on the beast of burden.
Smell of manure remains, memory of
Papa sober, showing his five-year-old son
The timeless way. In my adolescence
With my own races, I never heard hooves.
Halfway through my fifth decade
I feel my body clocks slowing
And how it speeds in my view. How long
Do I still measure its circles in minutes?
The more days race into my years
The faster it disappears.
Category: Poetry