by Jesse Breite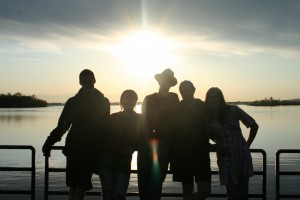 What could be more radiant, more
terrifying than the faces
of my friends congregated for me
from their odd places,
soulful little red dots speckling
the globe? Each one
yearning more than a torch ablaze
in the black cold of December,
with more profundity
than the moon and whatever tensions
keep large sphered stones
floating in space. Each assigned
freckles, hairlines, cheekbones—
I could touch them all—
underbite well-shorn or gristly jaw,
not to mention the delicate power
of the spacious brow,
the sparkling eye, the severe lip!
Do I see one crestfallen or beaming
in the obscurity of moments—
any portrait dazzling now,
or offering its loneliness to my own—
how I must owe feelings
to everyone! What must we mean
to each other? What must
we owe in awful obligation to loyalty
and love and honor?
These merely totem to mother and father,
daughter and son, even
the runt I must protect from graffiti!
These mutable orbs always watching,
reminding always: existence
and identity, here and now, now and here.
Category: Poetry, SNHU Creative Writing, SNHU online creative writing