By Pamme Boutselis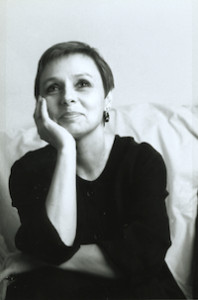 Gwyn Hyman Rubio is the bestselling author of "Icy Sparks," a Barnes & Noble Discover Great New Writers selection and a 1998 New York Times Notable Book. A national bestseller, the novel was praised as "vivid and unforgettable" (New York Times Book Review) and "a combination of fire and ice that will take your breath away" (Atlanta Journal-Constitution). "Icy Sparks" was a 2001 Oprah's Book Club selection.
Her second novel, "The Woodsman's Daughter," was published in 2005 and applauded as "richly atmospheric and engrossing" (Atlanta Journal-Constitution) and "set in a world wondrously created and mastered" (Louisville Courier-Journal). A Book Sense Pick by the independent bookstores of America, it was nominated for the PEN/Faulkner Award, was the finalist for the Kentucky Literary Award, and was listed as one of the 10 best books of the year by the Louisville Courier-Journal. Her new book, "Love and Ordinary Creatures," is "a gripping tale of the human condition and the deeper meanings of love, life and sacrifice" (Huffington Post Books).
Have you always written?
I came to writing late in life. I flirted with it throughout the years but, ultimately, ran in a panic from it. This is because I grew up with a writer for a father. My father Mac Hyman wrote the humorous novel, "No Time for Sergeants," published in 1954 when he was only thirty-one years old. He wrote it to make a little money, so that he could focus on a serious fiction, he said. Much to his surprise, it became a national and international bestseller. It ran as a play for many years on and off Broadway, and then was made into a movie. Andy Griffith starred in both productions. Tragically, my father was unable to deal with the great success of his novel and blocked not long after its release. Almost nine years later, a massive heart attack killed him. I was 13 years old when he died and blamed the writing life for his death. As a result, I became serious about writing only when I realized that the writing life had chosen me and not the other way around.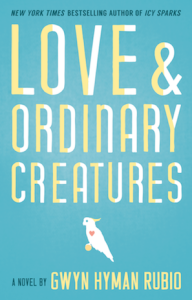 What's your process in developing your storyline and characters?
I think about a novel a long time before I ever put pen to paper. Over fifteen years ago, the idea for "Love & Ordinary Creatures" came to me while my husband and I were traveling in Australia. We were eating lunch in a delicatessen at Airlie Beach, waiting for the pontoon that would take us to the Great Barrier Reef, when a beautiful, blond Australian woman pedaled up and stopped in front of the deli window, with a cockatoo perched on the handlebars or her bike. Dismounting, she walked over to the parrot, leaned toward him, and puckered her lips. Simultaneously, he lengthened his neck and raised his beak. Much to my amazement, they kissed. While she was inside the deli, picking up her order, the cockatoo kept his eyes on her. Not once did he look away or try to fly off, even though his legs, I noticed, were untethered. The instant she headed back outside, the cockatoo fluttered his wings and squawked with delight. "Now, that's a bird in love," I said to my husband, as the two of them cycled off.
That image, so many years ago, gave birth to my story of a cockatoo in love.
After doing an enormous amount of research on birds in general and then on parrots, I decided that Caruso, my cockatoo, would tell his own story. But before I could begin, I had to solve the problem of his caged world. If I didn't open it up, the novel, I felt, would be too claustrophobic. At last, with a loose plan in mind, I sat down to write. It was not long before Caruso started speaking clearly to me. As he guided me on his spiritual journey, he showed me further ways to enlarge his world.
What challenges do you face in your writing, and how do you overcome them?
As I grow older, I'm less driven than I once was. Writing is a lonely, solitary profession, and before I die, I'd like to spend more time with real people than I do with my imaginary friends. I have written and shelved so many books that I find it harder and harder to spend years on a work of fiction, only to shelve it later.
Writing is a tough profession, made tougher by the merger of independent houses into corporations that value mostly the bottom line and the opinions of the bean counters. Hopefully smaller, independent houses like Ashland Creek Press will become more visible over time and be able to fill the void (which the big corporate houses have created) with well-written, imaginative, risky books, valued not for their huge sales potential but for their literary quality. Therefore, I try to remain hopeful about the publishing side of the business and have decided to write as long as the creative process continues to bring me joy.
What has the road to publication been like for you?
Not until after I graduated in 1986 with an MFA in Creative Writing from Warren Wilson College in Swannanoa, North Carolina, did I get serious about writing fiction. After publishing short stories in reviews and anthologies, I decided to write a novel and spent more than five years working one that came close to being published. Unfortunately, the deal fell through, and I was left heartbroken and disillusioned at the end of the submission process, reminding me of why I had avoided the writing life in the first place.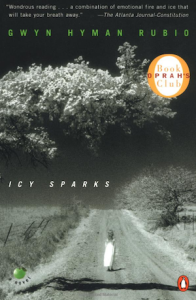 Nevertheless, upon recouping, I wrote "Icy Sparks," which was bought quickly by a large press in 1996. Although it was a Barnes & Noble Discover Great New Writers Book, a 1998 New York Times Notable Book as well as a New York Times Editor's Choice Book, and received mostly good reviews, the sales were modest. Three years later, I was worried that the paperback would soon be out of print when out of the blue, Ms. Oprah Winfrey called to tell me that she has selected "Icy Sparks" for her book club. That good luck brought an immediate reprinting of 850,000 copies.
"The Woodsman's Daughter," a total departure from "Icy Sparks," came next. It was published in 2005, just months after my editor left for another house. Sadly, she was not around when the book launched, and, orphaned, it suffered. During the 12 months that followed, I had three more editors – each one younger than the one before. Still though, I completed the second book of a two-book deal, working in a vacuum with little support, knowing all along that the finished book was badly written. I hated every word of it and resisted turning it in, but my agent encouraged me to do so, fearing that I might earn a reputation for not meeting deadlines if I didn't.
The business side of the writing life had reared its ugly head again.
I promptly blocked and, for a long while, couldn't make myself put pen to paper. Throughout this difficult time, I toyed with the idea of changing careers, but then I remembered the solid advice that a mentor/teacher of mine gave me years ago when I was disappointed about my inability to secure a contract for my first book. He told me to push all the trappings of writing aside, to forget about getting published, being recognized and winning awards, and to write solely for the joy of losing yourself in the creative process. He said that if you write like this, the rest will come, with any luck. And if not, you've still have fun doing what you want in life.
Consequently, I plunged into the research for "Love & Ordinary Creatures." Over the span of five years, it grew from a novella into a full-length novel, followed by the roller coaster of ups and downs that often accompany the submission process. The book was mostly well received. Nevertheless, those editors, who wanted it, were unable to garner a 100 percent consensus, and the hopes I had to place my book with a large press vanished. At which point, I moved on to the smaller presses, and it was not long before "Love & Ordinary Creatures" found a home with Ashland Creek Press.
The writing life ain't for sissies. Its tough – brutal to the spirit – but a writer, not writing, is even more tragic. My father taught me this.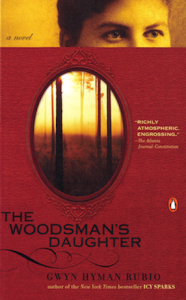 How do you market your work?
I show up. Performing in front of a group of people is difficult for me because I'm incredibly shy, but I do my best whenever I'm asked to give a reading and discuss my work. Some readings are better than others, but regardless of my nerves – I try to entertain the audience, whether large or small. I'll talk to book clubs, libraries, bookstores, any business or organization that invites me to come.
As for the Internet, that's another matter. I'm old school and feel uncomfortable, except for word processing, behind a computer. In addition, I value my privacy and don't want to share too much of myself with the outside world. Plus, I'm not that interesting – just someone who writes fiction. Thank heavens; Ashland Creek Press is managing much of the computer side of the promotional process for me. Yet, I'm trying to change because I agreed to do this online interview, small steps into the twenty-first century for a Luddite like me.
Who are the writers that have inspired you most, and how have they inspired you?
I'm an avid reader, as are most writers, and I've been inspired by different writers at different times in my life. In my early teens, I loved Charles Dickens. I was mesmerized by his description of Victorian, industrial England, swept away by the energy of his prose and his strong narrative drive, as well as his sleight of hand, his humor, his larger-than-life characters, and his compassion for the lost, exploited child.
In my later teens, I plunged into the Southern writers. Carson McCullers's lonely characters intrigued me, and I read almost everything she wrote because she was also from Georgia. After McCullers, I plunged into the short stories of Flannery O'Connor. She wrote like no other woman I have read. I liked the way she explored the alienation of her rural characters. Her penchant for the absurd and the honesty of her vision pushed me to see my Georgia roots differently. Next came the haunting lyricism of Truman Capote's early works, followed by the plays of Tennessee Williams, each line of dialogue like music to my ears.
In early adulthood, I gravitated toward the Russian novelists – Tolstoy, Dostoyevsky, Gogol and Turgenev among others. I adored Tolstoy's portrayal of complex characters, his sympathetic feeling for the peasantry, and his life-affirming beliefs. Dostoyevsky's exploration of the dark crannies of the human heart fascinated me, along with his daring technique.
In middle adulthood, I fell in love with Chekhov's short stories because it seemed to me that he saw the world through the eyes of God. Next, I read Nabokov, the Russia-born American novelist, whose fearlessness, in style and subject matter, amazed me.
With not enough space or time at this moment to list all of the brilliant writers who have inspired me, I will simply focus on the one I love most now – John Berger. I treasure his empathy for the poor, his ingenious use of white space, his clear vision, his courage and his profound humanity.
If you could keep just three books in your library, which would you choose and why?
For the reasons stated above, I would keep in my library the three books of John Berger's trilogy, "Into Their Labours," which are "Pig Earth," "Once in Europa" and "Lilac and Flag."
Category: