by Pamme Boutselis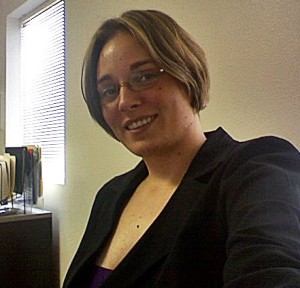 Krysha Thayer has been a freelance writer since 2007, writing about technology, pets, health and the art of writing itself. She is also an online student with Southern New Hampshire University, pursuing a bachelor's degree in creative writing with a focus in fiction, and is currently working on a memoir detailing her experience with Bipolar Disorder. We recently caught up with Krysha to learn more about her experience in kickstarting a writing career and overcoming obstacles in her writing.
Have you always written?
I was making up new endings for the stories my parents and grandparents would read to me before I could even read the words. When I learned how to write, it was only natural for me to write down the stories that I created with my active imagination. By the time I was in high school, I was writing poetry and the beginnings of novels, sharing them with my family and friends.
You're a freelance writer as well as a creative writing student. Your work varies from course assignments that include short stories and poetry to professional assignments such as articles and web content. Is there a particular type of writing that most interests you and if so, why?
I love to write about writing. I have a blog about freelance writing where I talk about the process, how you can get started, and how you can get better. I also love sharing my personal writing process in my author's blog.
Can you tell us how your experience with Bipolar Disorder influenced you to begin writing your memoir?
At first I didn't want to share my experiences with Bipolar Disorder. There are already so many books out there about it whether you want to read something written by a doctor or from a more personal standpoint, you know? But as I read more of these books I began to learn more about how my own experience was unique and that there was college students who were struggling with mental illness just like I was who needed to know that it was worth fighting for.
There was a student in one of my classes who was older than I. She had a daughter about my age who was Bipolar who couldn't live on her own much less go to school. I want to inspire the people who can, to go to school and get an education, even if it's tough and you have hurdles in your way (whether they be mental illness, physical handicaps, or something else).
Many new writers struggle to find that initial work as a freelancer. How were you able to create your professional network as a writer so that you were able to start getting freelance work?
I started on two popular freelance writing sites, Elance and Guru. I built up my portfolios with samples I spent hours pruning until they were perfect so that clients would see them when I submitted proposals on their writing jobs. Once I was on those two sites, I built a profile on LinkedIn and networked with other freelancers who worked through them. When my network grew, I noticed that I was getting connection requests from clients who knew me from my Elance or Guru profile and wanted to see more of my work. Now I get work from many places but most of it still comes from Elance and Guru.
What's the best advice you've been given with regard to writing?
It came from my grandmother when I was 16 and had handed her an unfinished story I wanted her to read. She read it and only had one thing to say, "Just finish it." I never got to finish that story before she passed away, but whenever I sit down to start a new story I hear her advice. And the story is never done until I'm happy with it, according to her, so that means a lot of editing.
What challenges you most as a writer, and what do you do to overcome those challenges?
I have a problem keeping my butt in the chair, to be honest. Whenever it's time to write or edit, I always find that something needs to get done around the house or in my office. If the story is giving me an especially rough time, my office is usually spotless by the time I get my butt back to my computer to continue writing! But I've found that if I set small goals of writing for fifteen minutes at a time, or maybe even a half hour, then I can handle it much easier. Then, my butt can wander for a while and not feel guilty about it.
What are your ultimate writing goals?
I have two goals. One is to be a successful romance author. I've always wanted to be a romance author ever since I read my first Nora Roberts book. But I also want to be a memoirist, writing stories about life whether funny or sad. I'm sure my Bipolar Disorder will play a large part in my memoirs, not only the one I'm writing specifically about how it played a part in my education. I love to blog and my blogs will be the center attraction for my romance books and memoirs. I've already set up these blogs, now I just need the posts to fill them up!
Category: