by Pamme Boutselis
John S. Blake got the nickname Survivor after his first session with a therapist. Blake told her about being biracial in the 70s, growing up as the youngest of nine children in a two-bedroom apartment in the Baruch Projects on the lower east side of Manhattan. He spoke of his entire family being addicted to and eventually dying from ravages of heroin and subsequently, AIDS. There were molestations, struggles with bisexuality, drinking, crime and more. When Blake told his therapist that he was the only one left, she promised him that something great would come of it; that there were no coincidences.
Then John Survivor Blake found poetry. It hasn't been an easy road, but Blake's still here and making a real difference in the world around him through his poetry. The Penmen Review recently had a chance to talk with Blake about his life, then and now, his debut collection of poetry and his aspirations as a writer. View his performance of "On Teaching Chess to My Daughter," which was featured earlier in The Review.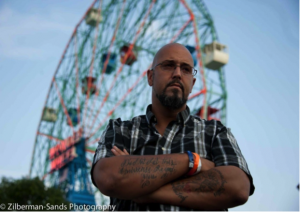 You're a poet and a spoken-word artist who travels nationwide performing. You also lecture extensively at colleges and rehab centers. Tell us a little about the journey from your childhood to where you are now.
My life began in the Baruch Project Houses on the lower east side of Manhattan. I was born three months after my black father and white mother were attacked; ran off the Harlem River Drive, pulled from their car and beaten almost to death for being together. My mother, six-months pregnant with me, was thrown into the East River for being with-child from a black man. I wrote about this in my poem "Hereditary" in this first collection, "Beautifully Flawed." This catalyst to my parents' divorce and my mother's drinking and drug abuse crafted the outline for all that I know about overcoming adversity. One could say that I was born into a horrible set of circumstance, but there is another perspective to consider; I am the child of two determined and resilient people who praised love over all other things long enough to give me breath. I am the offspring of a woman who endured the freezing East River in January, nearly drowning to make sure I would be here today. What strength!
I remember my siblings sitting for me while my mother worked more than she slept, more than she rested. My brothers and sisters, all of them products of the street, took me many places I should not have been. I saw many pinned pupils and smelled the cologne of alcohol on most exhales around me. I remember the smell of my mother's cigarette as she sat and stared at the heap of bills. I remember that I don't remember much of my father. I remember Coney Island, the best and worst of my youth; the only place my mother smiled, the first place I tried heroin and the place where my oldest brother took his last breath before freezing to death in an abandoned car. That's why I have the Wonder Wheel as the cover photo, taken by Zilberman-Sands photography. Robert and Christine Timm at Urban Publishing wanted a stack of narrative poems about my relationship with my mother. So I wrote what haunted me most.
I remember visiting my mother in prison for many years. We battled over my race and sexuality. While she was incarcerated, anger and resentment kept her from giving positive direction. She tried to convince me that my addiction was nothing more than some adolescent phase of experimentation. I reached out to whoever offered time to talk. I learned to filter. I learned to find what I needed. I learned to learn. I listened to what people said and especially what they didn't say. I self-parented by editing the random advice I was given over the years.
I found poetry seconds before I attempted to overdose. I heard a poem on HBO's "Def Poetry" and it truly saved my life. It was the day my mother died. I remember the poem and poet; "Instructions for a Body" by Marty McConnell. I'll never forget the last lines –  "We're gone in a blizzard of seconds. Love the body human while we are here" –  the chills that took over when the poem finished with "Dream or let your God destroy your good and fertile mind, this is your warning, this your birthright, do not let this universe regret you" and the tears that streamed down my face as I pulled the syringe from my arm and vowed never to shoot dope again. I've been writing ever since. Ironic, Marty McConnell wrote the foreword to my first full collection of poems, "Beautifully Flawed."
Three years ago, I got sober, and I've found a new vigor for art, life and purpose. Life really does get good when you do good. If you would have told me, while I was filling a syringe with puddle-water, that my life would get this good, I would have deemed you insane.
Given what you have experienced, particularly at such a young age, what do you think enabled you to make it through?
Daydreaming! I knew how to meditate before I knew what meditation was. It's hoping decisively. I used to tune out the beatings, screaming, drugs, gossip, cops, EMTs, lack of food, the dirt and the roaches, sitting in abandoned buildings when my brother was babysitting me, and all the rest by staring at walls and imagining I was anywhere else. Teachers used to scream my name to bring me back to earth. My mother used to bap me on the back of my head. I got so good at it that one time, I was a passenger in a car accident when Mom was drunk-driving and didn't even notice.
By the time I was a teenager, I made the (slightly) better choice of drugs over suicide. At least in addiction, I was barely alive and had a chance each day to do something magnificent. It's not the best coping mechanism, but it got me through a time when I believed there was nothing else. Death would offer no second thoughts, no hindsight. I remember a young lady at a bus stop once said to me, when I was sixteen and hopeless, "Remember, the moment you gave up is when things could have gotten better," and I've been holding on since. I know if I can breathe through my circumstance, I can overcome it. People have been strategically placed in my life to push me away from self-pity, resentment and fear. I've always believed in, for lack of a better word, God. I know there is and always was "something,"  just unsure what to name that voice of my soul. For most of my life, I've known things couldn't stay bad forever. I've believed that life would throw me a bone (preferably with chunks of meat still attached), and had no idea that was faith and hope. So here I am now: my first full collection of poetry, a Pushcart Prize nomination, a European tour in 2013, a memoir "Wildflower – a Son Remembers a Remarkable Woman" on its way to the printer and manuscripts of another book of poems, a traveling essay and a meditation book on grief on their way.
With respect to the volatile, yet strong, relationship you had with your mother, what was the experience like in writing "Wildflower – a Son Remembers a Remarkable Woman"? Were there things that you came to better understand about her through your writing?
When I started the manuscript, I was depressed. I was enraged. I was lost while trying to find the heart of the thing. I suddenly realized my good days were days my mother smiled. My traumatic times were hand-in-hand with any suffrage my mother endured. The worst times in my life were while she was incarcerated. My epiphanies as a grown man came just moments after she passed in my arms. While she was in a coma, as I brushed her hair, I realized that everything she ever did was to give me a better life than she had. I started to melt my waxy shell and stoic nature. I began to cry while smiling. Some would say I was bipolar or in the midst of a psychotic break, but the truth of the matter was I could finally feel.
What did you receive the Pushcart Prize nomination for?
Kenneth Gurney, editor for Adobe Walls Literary Journal, out of Albuquerque, NM, nominated my persona/perspective poem, "A Letter: Nat Turner to Barack Obama." I wrote it before he was elected for his first term. I wanted to write about the expectations I had for our first black president; how, after five-hundred years, he had better do so much right. I needed to write from a perspective of someone who did a great deal to alter the circumstances of black Americans long before he, or I for that matter, got here.
Were the poems always there, waiting to emerge or did poetry become a way to communicate your experiences to others?
I think both, but not at the same time. The poems were statements that used to wake me up at night. A poet, Roger Bonair-Agard, told me "Poems tell you when they're ready to be written" and I trust that phrase implicitly. But I didn't start writing the instructions given until there was a desperate need to get something out. The poem, "So You Want To Be A Writer," by Charles Bukowski starts my every day, reminding me to do nothing with the page until the poem wants to come out "like a rocket."
How old were you when you started writing and then finally, performing your work?
I started writing poems as a child around five-years old. In middle and high schools, I wrote love poems for other guys to entice the girls they crushed on. I stopped writing for a long time until the rocket came. I went to an open mic and told the story of my brother Benny, who contracted AIDS in the mid-80s. My family shunned him, afraid it was contagious. With no place to go and no one to turn to, he died in an abandoned car from hypothermia. I knew that was the first poem I had to write. It was the story that kept my stabbing my skin with dope. I knew it was the first weight to buck from my back if I was ever to fly. I was thirty-four and oblivious to where the last twenty-four years of my life had gone. I started performing in Philadelphia at a place called Dowling's Palace. It was an open mic. I think it still exists. It was suggested to me to go to a poetry slam in Manhattan at the Nuyorican Poets' Cafe. I competed in my first slam and the poem about my brother received a perfect score. I was a four-time semifinalist that first year. Poetry slams have been an influential part of my life since. I met some of the greatest minds of our time there; Patricia Smith, Marty McConnell, Roger Bonair-Agard, Carlos Andres Gomez, Samantha Thornhill, Tara Betts, Taylor Mali, Rich Villar, Saul Williams, Suheir Hamad and many others.
What is it about poetry that appeals to you?
It's divine permission for your spirit to stand up. Poetry is the troublemaker at every dinner table, demanding discussion on things no one else in the family will speak on or even admit to noticing. It's truth! Poets are not in it for the money (there is none). They don't do it for fame (ditto). We're talking about a group of writers dedicated to the smallest genre in any bookstore, wanting only to purge color to canvases everywhere.
Is all of your work meant for spoken word, or are there particular pieces that just feel right?
I believe any poem is meant for spoken word as long as the writer is willing to speak it. Some pieces are more geared towards inspiring listeners. Saul Williams once said, "You have three minutes to tell the world something. Now, what are you going to do with it?" I keep that in mind prior to every reading.
You curate adult and youth slam teams at Slam Richmond Reading Series in Richmond, Va. Tell us about Slam Richmond and what this program means to you.
Slam Richmond is a writer's venue and a safe space, dedicated to pushing the envelope while creating an atmosphere for editing and critiques, and a shared passion for words. Too often, poets are subjected to elitist views and an academic, oppressive force. They sometimes find themselves having to choose between street-gully, Hip Hop flavor in writing or obedience to the page, the line-break and nothing less than perfect enjambment, or poems that rhyme un-apologetically, all of the time. Some members or regulars at too many establishments will tell you poems should or should not rhyme, should or should not be long, short, deep, funny, sad, etc. At Slam Richmond, we wanted to start a family, not a gang. We wanted to be an orphanage of sorts for the writer(s) in need of eclecticism. It saved me from myself in more ways than can be fathomed. I needed that venue way more than it needed me. I was asked to leave NYC and head south to help curate. At first, I was apprehensive but came around after realizing I had done all I could do in New York.
I started the writing workshop and we agreed to raise the bar during slams; adding more rounds to each bout and forcing poets to eliminate poems from their arsenals once they used them. It forced all writers to dig deeper into their pockets and abilities. I've been blessed to meet some of the finest people in Virginia. I've learned a great deal about myself and others since being a part of starting something with all the right intentions. The youth have impressed me and refueled my love of the art when I felt drained. They remind me that it's always been about the poems and should never be about the poets. In July 2012, the youth won a 3rd place finish at the international youth slam festival,"Brave New Voices." After finals, I rushed to hug them and all they wanted was to raid a book store for new poetry. I was never more proud than that moment.
You're also beginning an adult literacy program. What motivated you to take this on?
I wanted to be part of a solution. I remember my father could quote famous lines of literature, but only because he heard them from others. I remember addicts on the streets that could run numbers of grams, ounces and cost but couldn't spell "a-l-g-e-b-r-a." I just remind myself that there are others who could love poetry like I do, if only they could read it. I want them to have the option.
I've taken a great deal from the community to do all the wrong things. It's just time I start giving back where I can. Chad Anderson and Nicole Homer asked me what the point was in writing depressing pieces about how wrong everything in the world was if I had no intentions on finding the solution; doesn't that make me part of the problem? Wasn't I just preaching to the choir? It's taken me a number of years to understand what they were teaching me. I got it now.
What's the process like when you teach poetry to high school students, and does it differ from the work you do with those in rehab centers?
I like introducing high schools to such writers as Etheridge Knight, Nikky Finney, Geoffrey Kagan Trenchard, Tara Betts, Khary Jackson, Roger Bonair-Agard, Saul Williams, Anne Sexton, Patricia Smith, Talaam Acey, Jeffrey McDaniel,Marty McConnell and Charles Bukowski; careful which poems I select, hoping to peak young interest to make a trip to the bookstore. I've had the pleasure to work with Cab Calloway High School for the Performing Arts in Delaware, RHAM High School in Connecticut, Lordsburg High School in New Mexico, The Native American Community Academy in Albuquerque, N.M., and I'm currently working with staff in Richmond, Va. to start something after school weekly, hopefully daily.
Rehab centers are like homecomings for me. I discover stories that need to be told: Homosexuals that got high to stay in their closets, dying to come out; men and women that have been abused and kept secrets by sucking on crack-pipes; and descendants of other addicts, as far back as three and four generations, as if addiction has become its own race and subculture. We write and are freed from judges and juries, and we finally get to share with a room full of understanding. You have no idea how many poets, oblivious to their divine talents, I've encountered.
Whether you're teaching or working with young slam poets, what do you hope people will take away from the experience?
That so much art comes from what the artist first considered a mistake. Too often, new writers compare what they have on paper to Whitman or Langston Hughes. They look at what's been penned, compare themselves to veterans and deduce themselves to never succeeding at poetry, demanding perfection on first drafts. I tell them, "If you write this well in just five minutes, imagine what you can do with this piece in five hours, five days or five years. I tell them I have poems that took years. But most of all, with all the unkind words between elitists and rejection letters from publishers, all writers should hold tight to their love for writing, period.
Who are the poets that truly to speak to you, and why?
There are too many to list, but I will say the poets speaking to me most at this time are Laura Yes Yes, Terrance Hayes, Tracy K. Smith, Roger Bonair-Agard, Nikky Finney, Claudia Emerson, Linda Hogan, Patricia Smith and Jeffrey McDaniel. These writers have opened my eyes to options on the page I didn't know were possible. Other poets that are really impressing me at this time are Tara Hardy, Megan Falley, Melissa May, Khary Jackson  and Carlos Andres Gomez. They remind me time and again that the truth needs little editing. Their performances are full of explosive spring, like new season and life.
You've encountered challenges that would seem insurmountable to many. What do tell people, particularly teens, who have a hard time seeing beyond the obstacles in their path?
It could get harder, so toughen up. Life is like a landlord; wants its rent and doesn't care why you're not able to maintain. If you want to see the other side of an obstacle, keep climbing! And if you truly believe your dreams are unrealistic, look at my life. Write their story down and make this world admit they exist, and stay alive just to spite hardship.
When you lecture at colleges and rehabs, what do you speak about?
Most workshops, I say "Read and be fearless." Dr. Gloria Wade Gayles told me, "You must let your pen dance." Writers need to tell themselves, first, what they feel, then the world. I tell them their first thought is always right. Writers are born. No different than colts leaving the womb and running; writers write as soon as they dream, then edit when they can hold a pen. I tell them to first write down what it is they want to say, the "spine" of the poem. Then, start adding bones. I remind everyone in a workshop with me that the hardest part of their lives was living through their experiences. Writing said experiences is the cake part.
When I'm facilitating at detention centers and rehabs, I want to help addicts to get down to the exact nature of the beast in their brains. We as addicts have thoughts we are ashamed of: wanting to return to our addictions no matter the cost or pain we cause, resenting getting clean, even dreaming about using after long amounts of time in recovery. We as obsessive/compulsive beings need to be able to tell on our thinking to stay on the sane side of our minds, and we need to be able to have an atmosphere without judgment in order to do it. I tell my story first, then hand out paper. The "poem" comes after getting some confessions down. I speak about overcoming inner-demons throughout "Beautifully Flawed." I'd like to consider myself a pretty good guide through confessional poetry.
What inspires you?
People succeeding under the pressure, from single mothers to our president. New poets having their first experiences on an open mic, watching them shake in a twister of nerves only to subside into a sunset of relief. The sky, day or night. Hugs from my daughters, holding my fiancé, family dinner, helping my kids with their homework and watching them strive to do better. I love that my family is truly a family. I love that our house is a safe place for our daughters. I love that although my fiancé is also from a chaotic childhood, we have managed to break two chains with one love. We are who we were waiting for! We all are our own saviors.
Is there anything that you would like to tell our readers?
Yes. I would like to first let you and everyone know that I have finally built a website with writing prompts and a daily journal at JohnSBlake.com. And people can purchase my book on the site or through Amazon.com or through Urban Publishing at urbanpublisher.com. For the new writer, if you simply can't stop writing; that is, if you're writing, no matter what the outcome of your efforts, for the love of expressing oneself, welcome to my world! Writing requires reading as well. I would say equal parts of both.
What high school athlete doesn't watch college ball? Pro ball? Learn from those that have paved our path. By that same token; if you are part of a writing circle, besides complimenting fellow writers (which we all should do), push them to write better and more. Suggest new perspectives and approaches. Want more from anyone and everyone in your life than mediocrity! I'd like to thank you for this opportunity to share a little of me outside of poems, and thank your readers for this opportunity to be seen in a new light.
Category: