by Lucinda Watson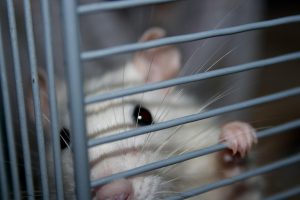 A crime has been discovered on this Saturday morning.
My mother's perfectly blue like a Maine sky stationery from Tiffany's
has been used to line the rat's cage.
It's pretty clear who did this but we are lined up anyway.
In the front hall underneath the curving gallows of stairs we six stand
not unlike the condemned in a holding pen.
We know we are all condemned no matter how this plays out.
My father stands in front of our lineup:
"One of you has committed a crime and is lying about it.
Until that person steps forward no one will leave this house."
We all know who has done this but my mother is standing behind my father making hand signals of don't tell no matter what.
I feel like falsely confessing just so I can go to Betsey Beecher's house.
Her father is never home and her mother thinks I am interesting.
Category: Poetry, SNHU Creative Writing, SNHU online creative writing