by Tahseen Béa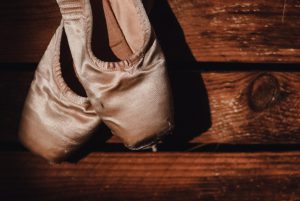 "This is where I feel it." Layla said to her husband of two years.
"Place your foot on my knee." He said.
Layla placed her bare foot on his knee. He held his foot and touched her ankle, examining the skin and bones of her thin ankle.
"Here?" he asked gently gripping her ankle with his palm.
"Yes."
"How does it feel?"
"Heavy—as if I am wearing something around my ankle."
"Do you feel it all the time?"
"No. Last year when we lived in Karachi I felt it once or twice but ever since we moved to Lahore I feel it more: a clasp around both my ankles. Even at night it wakes me up. Sometimes I get up and touch my ankles."
Haleem let go of her foot and she pulled it back from his knee.
"Strange. All I see is your lovely foot with painted toes." He said smiling.
She was amused. "Is that all you can come up with?"
"I don't understand why you would feel the weight around your ankles when you don't recall any trauma. You can consult a doctor if you wish."
"Okay. Maybe I will." She said.
Layla was thirty years old. She was a graduate of Karachi Design School and had dreams of owning a boutique for bridal wear. Now that she has a boutique she was very involved with creating wedding dresses for each client. She loved the process of choosing a soft, shimmering fabric from the wide range available: the color, the texture, the weight of the shirt, and the flare of the skirt. Most of all she loved designing the long dupatta that framed the bride's face. Layla felt she was in the business of making dreams come true. Young, blushing women came to her with their mothers or older sisters to choose their wedding dresses. Sometimes they brought a sample of what they wanted and shared it with Layla. Then Layla would ask them more questions and started to draw in her sketchbook. Gradually the image came closer to what the girl had in her mind. Once the dress started to shape the client was requested to come back to the boutique for several fittings. This process took months before the dress was finally approved. Layla wrapped the dress in sheets of light-weight, colorful paper and packed it in a beautiful box with her name on it. The extra wrapping details were Layla's gift to the bride.
Today after she finished her work at the boutique she left the main street and decided to go to the inner city bazaar to buy wedding fabric and some wedding accessories. Usually salesmen came to deliver fabric to her boutique but today she wanted to take a look at a variety of fabrics. She drove for about an hour and entered a busy part of the city. The streets were narrow and she had to be careful negotiating her way through them. She waited at the traffic light for a moment wondering where she should park. She noticed small windows and balconies over the stores. As she gazed at the balconies the sensation around her ankles heightened. She moved her feet slightly to shake the odd feeling, and continued to drive until she found a parking spot.
She visited a number of stores and placed orders for different types of silk in a variety of colors. She also asked for lace, chiffon, tulle, net, organza and georgette. When she reached home in the late evening Haleem was already home from work. She washed up and sat down for dinner with him.
"How was your shopping?" he asked
"I ordered more fabric. I am glad I am getting so many bridal orders."
"You like beautiful things. You always did." He said indulging her.
"I also like women to look beautiful in their bridal dress. This is their first meeting with their partner. They have to look lovely."
"All marriages are not arranged. Some of the women may have known the men they are going to marry."
"Sure but this is the day they meet as husband and wife. It's special. Don't you think?"
"Yes. It's the first day of the rest of their lives as a married couple. Speaking of outward glamor, I don't like too much of it. I think sometimes women can over do it."
Layla laughed, "It depends on their taste and what they fancy. My dresses are customized to my clients' request."
Layla didn't say but she got a special thrill from dressing young women. She would show them how to wear the dress in the most flattering way, how to hold the dupatta so that it wouldn't slip, and to keep their chins up and not bend their heads too low for it wouldn't photograph well. She dreamed of having a beauty salon where she could do bridal make-up. For Layla it was the combination of shimmer, perfume, color, glitter and a young girl that titillated and amused her. It wasn't merely about owning and running a business. She took immense pleasure in the aesthetics of bridal wear. While she prepared the dress and tried it on the girls, all the while in the back of her mind she imagined the girl on her wedding day looking seductively pleasing to her partner. Something about the genders meeting to share their love appealed to her imagination. She created wonderfully elaborate wedding attires to address her creative fantasies.
"You like to dress up others but as a bride you were very simple." He remarked.
"I know. I can imagine others filling that role but I couldn't step into it."
"Why not?"
"I don't know. It's like an offering. It's meant to be given. I can't keep it for myself."
"Aesthetics of giving?" Haleem played with the thought.
"Precisely." She said. "It brings me joy when I work on the dress knowing the girl will adorn it on her special day."
"There is romance in that thought."
Looking at him affectionately she said,
"Eastern marriages are shrouded in seductive mystery. Young men and women dress exclusively for each other to promise love and fidelity. And yet most of them don't know each other very well. It's romantic."
"What about trust?"
"How do you mean?"
"Marriage is not only about romance and love. It's also about entrusting the other with your secret self. Your partner will know you like no other. It's a sharing of intimacy with trust."
"Yes it is. It's a time to be honest with one's femininity and masculinity. You can't cheat yourself or the other of the beauty you own. Again, it's an offering, and offerings can't be selfish."
"But taking can be selfish. Don't you think? We can lie with our bodies."
Layla was quiet for a moment. She gazed at him with a sadness creeping in her eyes.
"We can. At best we hope our bodies won't lie to us or the other. That the giving is sincere."
"What happens when we do lie?"
"Betrayal. That would be betrayal."
"Will the other know?"
"Not always. But the sensitive ones can tell after a while. Body is intelligent. It can pick up lies."
"Can you imagine an intimacy based on lies? Instances when one or both partners are intimate with their bodies with the intention of taking and not giving?"
Layla paused for a while then looked at Haleem and said,
"Actually I can. There are transactional relationships in the world. Men pay to visit women and they pretend to love each other for a while. There were courtesans in the previous centuries who lived with wealthy men for years until the men decided to move on. Men and women still meet in that way. Is the body lying in that loving or is it aware of being used?"
"Some men and women would fall in love when they met in those situations. Some married. This means love is a possibility."
Layla smiled,
"Yes it is. Love is always a possibility. I would hate to think bodies are forced to lie for a long time. Bodies need to blossom, need to be celebrated."
….
Later at night Layla felt the clasping sensation on her ankles again. She sat on her bed and held both her ankles. She kept her eyes closed and stayed with the sensation without shunning it. She tried to relax and welcome it. She had decided to come close to this strange call that visited her from an unknown source. She wanted to learn more about it and what claim it had on her body. Why was it here? What was it showing her? With eyes shut she placed her forehead on her knees and leaned into her pain.
Every day Layla made a practice of sitting quietly on the floor and listening intently to what this ache was trying to tell her. She would put her hands on her ankles and listen as if the tiny bones around her feet would one day speak to her.
One day during her meditation she saw the windows and balconies in the inner city that she saw on her visit to the stores. She wondered what this image meant and decided to visit the inner city again. This time she went in the morning. She parked on the street, outside the stores and walked to the narrow stairway that led to the apartments upstairs. She had to find out who lived there. At the end of the stairway was an old door. She rang the bell and a forty- something woman opened the door. Layla noticed she was dressed very well and looked attractive.
"May I help you?" she said in a sweet tone.
"I would like to talk to you. May I come in?"
"Sure." She said and invited Layla inside the apartment.
Layla found herself in a large hall with carpets and cushions on one side. The other side was uncarpeted and revealed a glistening wooden floor. The women crossed the hall and entered a small living room with a gaudy sofa set.
"Take a seat." She beckoned Layla.
As Layla sat on the sofa she felt the clasping sensation around her ankles. But this time it didn't bother her. Instead it came with a thrilling sensation that spread throughout her body. The woman had left the room saying she would get her a drink. While she was gone Layla observed some of the framed pictures on the walls. These were pictures of dancers in different dancing postures. They were dressed in brightly colored, shimmering clothes with long dupattas draped around their heads. Layla felt her heart racing as she looked at these beautiful women.
"How can I help you?" the woman asked again as she offered coke to Layla.
"Thank you." Layla said accepting the drink.
"Who lives here?"
"It's a place of business."
"What kind of business?"
"Dancing." She said briefly.
"Do you teach dancing?"
"Initially yes I teach dancing but when the girls are good at it they perform for customers in the outside hall."
"Ah" Layla sighed recognizing that she had walked into a place of mujra.
"Can I watch them dance?"
"Yes you can but usually its men who are in the audience."
"Can I come at a time when the girls are practicing the dance?"
"Yes they practice in the evening before the show."
"Okay. In that case I will come back in the evening."
Layla returned to her place feeling exhilarated. Intuitively she knew this would lead her to the source of her question. She went back to the dancing place in the evening and could hear music from the stairs. As she climbed she felt her body pleasantly respond to the rhythms of the music. The woman opened the door for her and she entered the big hall where she saw two young girls dancing to music played by musicians seated on the floor.
They were dressed in brilliant-colored dancing dresses made of silk, chiffon, net, and lace. Their long braids had golden threads woven in them. Glittering chandelier ear rings almost touched their slender shoulders. They wore ghungroos around their ankles that jingled every time they touched their toes against the wooden floor. Gradually it all came together for her. A long time ago, in another time Layla danced on a similar floor for the pleasure of male customers. Layla walked to one of the girls and asked for a pair of ghungroos. She sat down on the wooden floor and carefully strapped them around her ankles. She then tied her dupatta around her body and joined the girls in their dancing moves. She felt as though her ankles were not lonely anymore. Now they would not call out for what they missed all these years—music, dance, a pair of ghungroos, and the company of girls who dressed meticulously to please their male audience.
Category: Short Story, SNHU Creative Writing, SNHU online creative writing