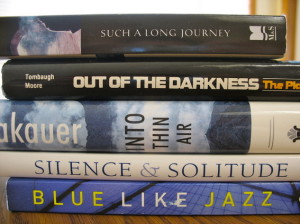 April is National Poetry Month, and, to celebrate, The Penmen Review is having a Book Spine Poetry Contest! So, what is book spine poetry? Use the contents of your library and arrange book titles to create a poem. You can see examples here: http://bookriot.com/2012/10/26/the-best-of-book-spine-poetry/
To enter, take a photo of your book spine poetry and email it to [email protected] We'll be sharing the best of the submissions on Wednesday, April 23, 2014, and will encourage everyone to vote on their favorite. The winner will receive a copy of The Penmen Review's first anthology and an SNHU t-shirt.
Even if your poem isn't selected for the final vote, all poems will be featured on an SNHU Pinterest board for the world to see! We can't wait to read what you create.
Category: Poetry